Raising awareness on Intellectual Property registrations, rights in Monggar
Sonam Tshering, Monggar

Dec 15, 2017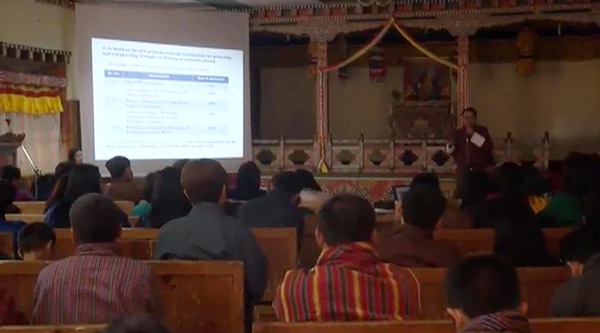 Over 130 business entities, farmers groups and local leaders in Monggar were familiarised on the importance of intellectual property registrations, which is mandatory in obtaining copyrights, trademarks, and patents for any new innovations or creations.
Intellectual Property or IP refers to creations of the intellect for which a monopoly is assigned to designated owners by the law. The officials from the Department of Intellectual Property under the Ministry of Economic Affairs said, the awareness programme on Intellectual Property was carried out to make people understand better about IP rights.
"We intend to create a clear understanding of intellectual property rights such as patent, copyright, industrial designs, and trademarks which are in line with the Industrial Property Act and Copyright Act of Bhutan 2001 to the public," said the Officiating Chief Intellectual Property Officer, Tempa Tshering.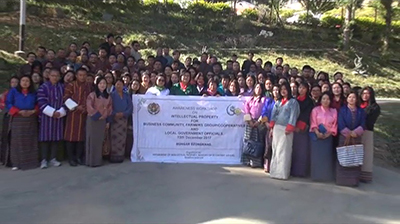 He also said the two acts (Industrial Property Act and Copyright Act) provides necessary provisions on the protection of new inventions, designs, trademarks, and copyrights, and their enforcement.
However, most stakeholders are not aware of such provisions due to not much industrial activities in the country.
"Not many innovative and creative activities are happening in the country but times are changing. And the two acts mandate the office to register and enforce the intellectual property rights," added the Officiating Chief Intellectual Property Officer, Tempa Tshering. "But there are not many provisions which empower the office to help the people in every nook and corner of the country."
The awareness programme seemed effective as some participants have already grasped the importance of why IP rights to promote business establishments.
"Flatten maize products from Monggar is popular item available in the market. If the packaging is done well with trademarks and symbol on its cover, it will help to boost our business," said one of the businessmen, Namgay Dorji.
IP rights sensitisation programme like this was held in other eastern dzongkhags like Trashigang and Lhuentse.  They also have plans to conduct similar programmes in other parts of the country.