MoLHR's decision to stop providing tuition fees affects youth
Pema Tshewang, Thimphu

Dec 13, 2017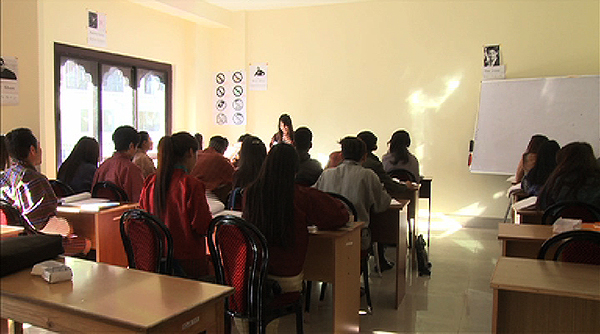 The Ministry of Labour and Human Resources (MoLHR) has discontinued providing tuition fees to youth for undergoing basic Japanese language course a month ago. The move has affected many youth who wish to go to Japan to study and earn a living.
Initially about 400 youth registered for April 2018 batch to study and work in Japan. However, due to the ministry's decision to not to finance tuition fees, over 100 youth couldn't attend Japanese language class. Only 250 of them are taking up the course.
"When we registered with Bhutan Overseas Employment, we were informed the MoLHR will support tuition fees for us. But all of sudden, when we were about to take classes, they told us we will not get tuition fees. Most of us come from poor family and without fees, we cannot attend the course," said one of the youth, Lobzang Tshering.
A group of youth even appealed to the Labour Minister but their plea was unaccepted citing budget constraints.
"Around 220 of us approached the Labour Minister, submitted a letter requesting for providing tuition fees. But the minister said due to lack of budget, they cannot fund us the tuition fees.  Bhutan Employment Overseas accepted to deduct the fees from 100 of us from our loan accounts," said Sangay Lhamo.
The matter was discussed in the recent parliament session where the Public Accounts Committee presented its report on Employment Generation and Promotion initiatives. The MoLHR funded tuition fees for previous three batches- a fee comes around Nu 5,000 per student for a month. The National Council Member from Bumthang sought clarification from the Labour Minister as to why the ministry stopped to provide tuition fees.
The minister clarified that it was stopped to carry out proper research and also talks are ongoing with the Japanese government to sign an agreement. "If that agreement is signed, we will be expecting to send youth to Japan without having to process for loans," added Lyonpo Ngeema Sangay Tshempo.