Minting money from growing Shiitake mushroom in Trashigang
Tshering Zam, Trashigang

Dec 8, 2017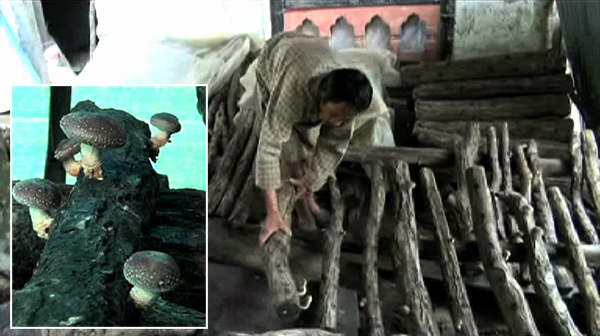 Growing Shiitake mushroom, locally known as Sokay Shamu has been profitable for farmers in Trashigang. Some of them have already started earning cash by selling it. Farmers there took up mushroom farming to generate extra income during off-farming season.
One of the farmers named Naku, 55 from Pam in Kanglung Gewog is busy preparing the billets or logs to grow shiitake. He has to water the billets which need proper care. Shiitake means "mushroom of the oak tree" in Japanese. It is delicious and has a meaty flavour.
"It is easy to cultivate this mushroom. I have over 1000 billets and will cultivate more next year if the yield is good. During the initial stage, it is challenging but there is good market as well," said Naku.
He further said in maize is the only cash crop in his locality, so cultivating mushroom has helped him earn some income. A kilogram of Shiitake mushroom costs Nu 350. Like Naku, another farmer's group has ventured into mushroom business since last year. The group called as 'Pakaling Mushroom Group' has cultivated mushroom on a large scale and looks forwards to bountiful harvest soon.
"Here in Radhi Gewog, we had been growing rice and maize for livelihood. But now, we thought of exploring other crops since rice and maize crops are often affected by pests and diseases," said farmer Tandin Wangchuk.
With training given by the Dzongkhag Agriculture Sector, farmers are hopeful their mushroom farming will gain immense popularity in future.
"Mushrooms are growing well. The ones cultivate earlier are good," said another farmer in Radhi, Ngawang Phuntsho.
The dzongkhag agriculture officials said encouraging farmers and their groups to take up mushroom cultivation is to help achieve self-sufficiency.