Education ministry looking to expand School Feeding Programme to all schools
Pema Seldon T & Pema Tshewang, Thimphu

Dec 7, 2017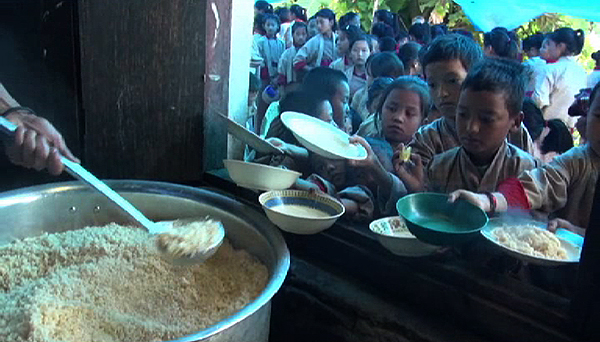 The education ministry is working on the possibility of including all schools in the School Feeding Programme in the 12th Five Year Plan. The education minister informed this while discussing the Performance Audit Report on School Feeding Programme in the Parliament yesterday.
Minister Norbu Wangchuk said the ministry is in consultation with relevant stakeholders regarding the plan. He said the ministry will look at at least providing lunch. "We are in the process of implementing the plan in the 12th FYP," he said.
"We will discuss with the Gross National Happiness Commission and specialists about the fund, policies and its benefits through proper research."
Today, of about 250,000 school going children, the School Feeding Programme benefits only 35 percent of them.
Reviewing the Performance Report, the Public Accounts Committee (PAC) of the Parliament also recommended the need to develop standard School Food Menu using the health ministry's Bhutan Dietary Guidelines for School Children 2015.
"The ministry is in the process of assessing the diet provided in schools," shared the minister. The study, he said, will help in understanding the overall nutrient requirements and identifying age-wise dietary requirement.
"It will also help us know whether the Nu 1,000 monthly stipend per student is sufficient or not. If needed, we can always find ways to increase it with support from the parliamentarians," added Minister Norbu Wangchuk.
Today, there are 301 schools under the School Feeding Programme.