Growing chilies on commercial scale for first time
Kinley Wangchuk, Samdrup Jongkhar

Dec 7, 2017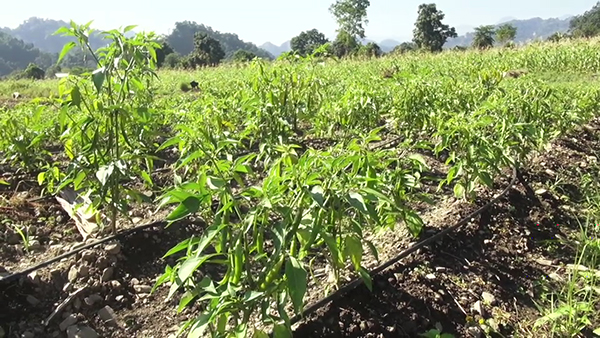 The government's move to ban the import of chilies since July, last year has motivated many farmers in the country to grow chilies on commercial scale. In Samdrup Jongkhar, the Rekhey Vegetable Group has also tried chili farming this time.
Their objective is to meet the demand of the consumers in the dzongkhag. Currently, one can find a variety of fruits and vegetables but not chili. People there have to make do with dried chilies.
"In the past, we cultivated chilies for our own consumption but now we are growing it on large scale to generate some income," said one of the members from the Rekhey Vegetable Group, Sangay Dorji.
Other farmers said they are doing everything they can to ensure the harvest is good.
"Right now, the yield doesn't look so good but we are making manure to spread around the chili plants," said a farmer named Karma.
The Dzongkhag Agriculture Sector provided the group with water tanks, pipes, and also technical assistance for successful cultivation. The chiles are expected to hit the market by the end of this month. Six gewogs: Langchenphu, Martshala, Pemathang, Samrang, Dewathang, and Phuentshogthang are doing chili farming for commercial production.