Graduates of Indian, Australian universities and Taktse CLCS top 2017 BCSE
Sonam Pem, Thimphu

Dec 6, 2017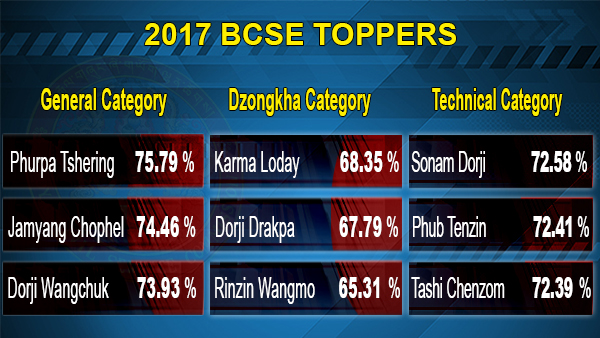 Phurpa Tshering, a B.A Journalism and Mass Communication graduate has topped the 2017 Bhutan Civil Service Examination in the general category. In the Dzongkha category, Karma Loday from Taktse College of Language and Cultural Studies was declared the topper, while Sonam Dorji, a graduate of Jamia Hamdard University in India came first in the technical category.
The topper of the general category, Phurba Tshering, has scored 75.79 per cent. Jamyang Chophel, who also studied B.A Journalism and Mass Communication, came second with 74.46 per cent. Phurba Tshering and Jamyang Chophel are both graduates of IMS Unison University in India. Dorji Wangchuk, an Economics graduate from Australia's University of New England came third with 73.93 per cent.
In the Dzongkha Category, besides Karma Loday who came first,  the second and third position holders, Dorji Drakpa and Rinzin Wangmo, too hail from Taktse College of Language and Cultural Studies. Karma Loday has obtained 68.35 per cent, while Dorji Drakpa secured 67.79 per cent and Rinzin Wangmo 65.31 per cent.
In the technical category, all three toppers are graduates of Indian universities. The first and the third position holders, Sonam Dorji and Tashi Chenzom are both graduates of Jamia Hamdard University. Phub Tenzin, who took the second spot, is a MBBS graduate of the All India Institute of Medical Sciences.
It was tight race for the three with only a marginal difference in their scores. Sonam Dorji has obtained 72.58 per cent with Phub Tenzin following closely behind with 72.41 and Tashi Chenzom even closer with 72.39 per cent.
"With god's grace, His Majesty The King and my parents, I feel blessed to have been born in this country and today the result that I have in front of me is all because of them,' said Jamyang Chophel, who is the second topper in the general category.
"I worked hard to get this result and I am very happy with what I have achieved."
"The course that I took was a new course, so there was no slot last year," said Sonam Dorji, the topper in the technical category.
"I was sad about it and started preparing for the exam last year itself. And this year I put in extra effort and had hoped for a position. I am happy with the result and pledge to serve my country."
For Dorji Drakpa, the second topper in the Dzongkha category, the result was a pleasant surprise. "I did not expect to be in the top three but with blessings from god, family and friends, I have come second,' he said.
"I am very happy. Coming from a humble background, I was not able to pay for coaching classes for the main examination. Despite that, with help from my teachers and because of my own little effort, I have been able to do well."
The 2017 BCSE results were declared today. Of the total 957 graduates who sat for the main examination, 800 of them have secured 50 per cent and above. They will compete for 429 job vacancies in the civil service.