Chili brings cheer to farmers of Kangpar Gewog
Tshering Zam, Trashigang

Dec 6, 2017
It is a double celebration for farmers of Kangpar Gewog in Trashigang this time. Apart from fetching good prices for green chilies, they are also getting high returns from the sale of red dried chilies. Unlike past years, this year, they sell chilies from their homes at much better price.
Onset of winter is the time when farmers in Bhutan usually don't have much agricultural works to do. However, for Rinchen Norbu and his sister, they are busy drying the red chilies- the main source of income for villagers in Kangpar Gewog.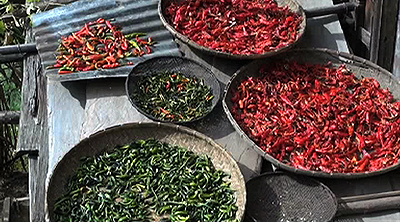 "Since our forefathers' time, chili has been the main source of income. Earlier, we had to take chilies to Samdrup Jongkhar FCB but now, buyers come at our home. Before, a kilogram of chilies was Nu 400 but today, we get Nu 500 per kg," said Rinchen Norbu.
Some households earn over Nu 80,000 by selling chilies in a year. Chilli grown in Kangpar is popular in eastern dzongkhags. Gewog officials said to help villagers earn better income; they are going to come up with better farming methods to cultivate chilies in future.
"From our side, we want to create more awareness and support them in the 12th Five-Year-Plan and would like to encourage farmers to grow chilies on vast scale," said the Mangmi of Kangpar Gewog, Sangay Tenzin.
The Kangpar Gewog office is also planning to set up chili power producing machines there. Kangpar is located some 100 kilometres away from Trashigang town towards Samdrup Jongkhar.