Egg price shoots through the roof
Karma Wangdi, Gelegphu

Dec 5, 2017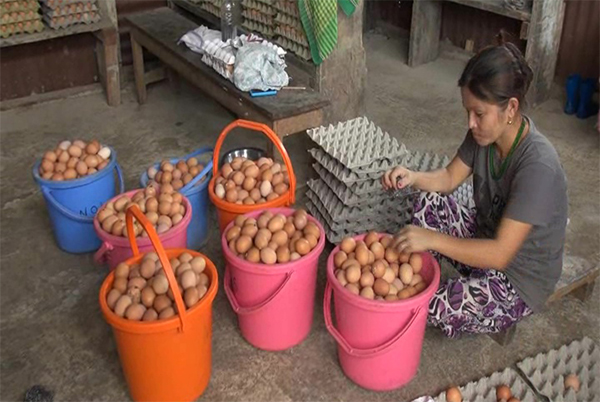 The price of egg has hit a record high with a tray now costing Nu 350 at the Centenary Farmers' Market in Thimphu. The skyrocketing prices have not spared consumers in Sarpang too despite the district being among the main egg suppliers.
From Nu 96 per dozen, the price has now soared to Nu 140 in Sarpang. As the soaring prices pinch pockets, consumers in Sarpang are calling for price regulation by the authorities. "It's becoming unaffordable for some," said Tashi Tshering, a Gelegphu resident.
"People set out to buy some eggs but return empty handed because eggs really have become a pocket-burner."
"The price has skyrocketed within no time,' said Dorji Tshering, another resident. "The last time I bought eggs, it was just Nu 90 for a dozen and Nu 200 for a tray. But now a dozen costs Nu 140, while a tray is sold at 350. It's a little too high for common people like us."
"Concerned authorities should fix the price to ensure both the sellers and consumers are not at loss," said Ashman Rai from Sarpang.
The consumers in Sarpang say growing demand from other districts, particularly Thimphu, has pushed the price up. The Chairman of the Sarpang Layer Cooperative, Nima Lama, says brokers from other dzongkhags personally come to Sarpang to buy eggs directly from the poultry farmers.
He said they pay the farmers more than what the cooperatives pay. "As a result, the cooperative members sell directly to them leaving us out of supply," said Nima Lama.
"That's why we had to suspend our supply to Trongsa and Bumthang. When we supply eggs, we make sure it is priced reasonably. But now it's not within our means to control the price."
Officials from the Regional Trade and Industry Office in Gelegphu said they do not regulate the price of local produce. It is left up to the market forces of supply and demand.
They, however, said that if the price becomes exorbitant, the Consumer Protection Office in Thimphu would look into it.