Coming out of the HIV/AIDS closet
Sonam Phuntsho, Thimphu

Dec 4, 2017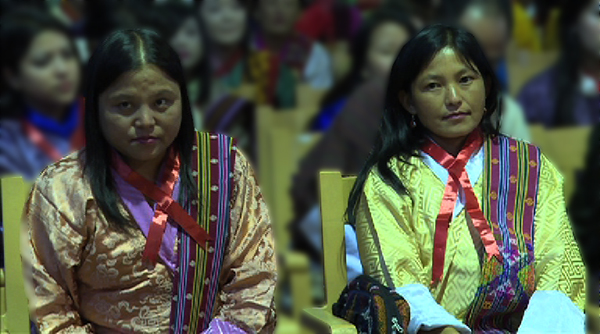 Having lived in shame and fear for the last 14 years, 35-year-old Tashi Pelzom finally went public with her HIV positive status at an event held to mark World Aids Day last Friday. So did Losem Zangmo who is also a HIV positive.
For many, what the two brave women did  is still an unimaginable thing to do. HIV/AIDS still remains subjected to intense social stigma, which makes it hard for people living with the virus to be open about their HIV status.  But Tashi Pelzom and Losem Zangmo mustered all their courage to come out of the HIV closet.
The two decided to go public with their HIV status for themselves. They did not want to live in the closet anymore. "It feels as if a huge weight that I have been carrying for the last seven years have been lifted off my shoulder," shared Losem Zangmo.
But more than themselves, they did it for the benefit of hundreds others like them living with the virus. It was also to fight the stigma surrounding the disease, which is preventing many from coming out as HIV positive and others from coming forward to get tested.
Tashi Pelzom said the decision to come out publicly as HIV positive was anything but easy. The mother of one said her family, close friends and colleagues have been very supportive of her decision.
While she is not so sure about how others might view it or whether they would be supportive and accepting or not, Tashi is determined to change people's perceptions about the disease. "The main reason why I came out in public is because there is this misunderstanding and fear surrounding HIV/AIDS," said Tashi.
"There are other diseases like Hepatitis B and C and even cancer, which are more serious. I hope what I did will encourage others living with HIV to come out and avail treatment and other services without shame and fear."
As for Losem, her husband disclosed his status a few years ago. She says she is following suit because she believes that HIV positive people talking openly about living with the virus would be more effective in dispelling the myths, misunderstandings and stigma associated with HIV/AIDS. This ultimately will help in eradicating HIV/AIDS. "I would urge the people to take advantage of the testing services available in the country," Losem said.
"For those living with HIV, I would like to tell them that life is not as stressful as a life lived secretively with the disease. By coming out and getting yourself tested, it would save the lives of your children too in the future."
Including Tashi and Losem, the number of people who have disclosed their HIV positive status in the country today stands at 10.
In 2011, five people living with HIV made history when they went public with their HIV status on the national television. They were the first ones to publicly disclose their HIV positive status, which also gave birth to Lhak-Sam, Bhutan Network of People Living with HIV and AIDS.