Oman confident of win at Changlimithang
Sherub Dorji, Thimphu

Nov 13, 2017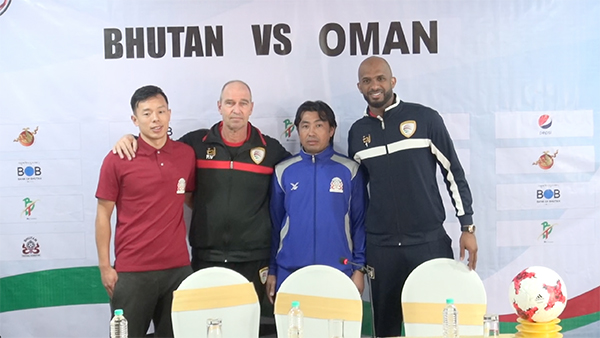 Having already booked its berth in the 2019 Asian Cup last month, Oman's football coach, Pim Verbeek, is looking forward to a win here at the Changlimithang in a bid to secure top spot in Group D.
Last month, Oman joined table-topper Palestine as the two teams to march from Group D into the Asian Cup 2019 UAE with a comfortable 3-1 win against the hosts Maldives in Male. With two matches remaining to decide the group topper, Verbeek is now preparing his boys for the challenge against Bhutan, tomorrow.
"To be number one in the group we have to win tomorrow evening and we have to win Palestine. So, even we are qualified already our target is to win both games. In Asia, away games are different but we are not going to change anything we will play the normal way we always try," said Oman's coach Pim Verbeek.
The Oman team will be captained by Al Habsi, the former English premiership goalkeeper with Wigan Athletic and Bolton Wanderers.
"Tomorrow we will play here. Hope to enjoy ourselves. Of course we come here to play football, we need to win every game we play. I think we are prepared 100 per cent for this game and we will be ready for it," said Al Habsi, the Oman's Captain.
Meanwhile the Bhutanese camp is looking to put in a light training session, today. Chimi Dorji and Kencho Tobgay returned to the national squad while Mon Bdr. Gurung and Tshering Dorji were dropped due to injury.