Drukair to resume flights to Yonphula & Gelegphu next month
Sonam Phuntsho, Thimphu

Oct 27, 2017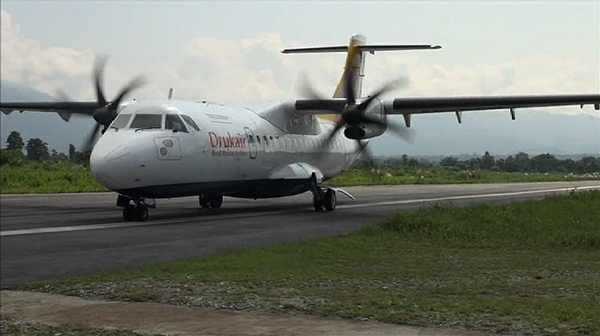 The national airline, Drukair will resume its domestic flight operations to Gelegphu and Yonphula, Trashigang from next month. According to a news release from Drukair, the first scheduled flight will fly on November 11, coinciding the birthday of His Majesty the Fourth Druk Gyalpo.
The official announcement comes after the national airline company, its parent organisation- Druk Holding and Investments (DHI), and the government had several meetings. Earlier, BBS reported Drukair through DHI submitted four proposals to the Finance Ministry for operation of flights to Yonphula and Gelegphu. One of the proposals which was purchasing of ATR-42 aircraft was disapproved by the government.
Other proposals included subsidy of Nu 400,000 per flight to meet the economic viability gap and one time establishment cost of about Nu 8m. Both were accepted by the government, but the subsidy amount was brought down to Nu 300,000.
A news release also states that Drukair will operate about three flights a week on Tuesdays, Thursdays and Sundays. The flight time is expected to be about half an hour to Gelephu and another half an hour from Gelephu to Yongphula.
Drukair launched its in-country flight service in December 2011. However, flights to Gelegphu and Yonphula were irregular and suspended occasionally due to weather adversities and pebbles appearing on the runways.