Bumthang to upscale rice cultivation despite challenges
Kipchu, Bumthang

Oct 20, 2017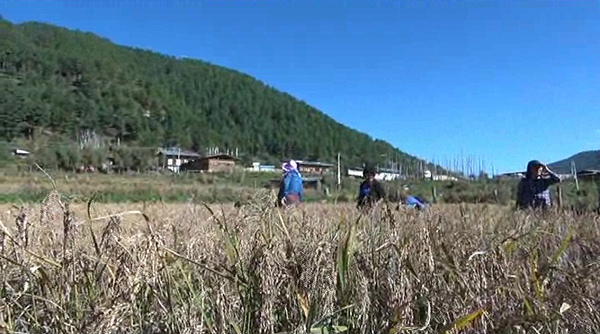 Bumthang's agriculture sector plans to upscale rice cultivation in the district in the next five year plan. Paddy cultivation, a relatively new farming practice in Bumthang, was pioneered in 2002.
At 2,700 metres above sea level, Bumthang is one of the coldest districts in the country where paddy cultivation has proved to be a success. Up until 2014, a growing number of farmers took up rice cultivation.
But after 2014, the scale of the rice cultivation remained the same and farmers are now dealing with some challenges, such as the difficulty in raising paddy seedlings.
"In warm places, it can be grown in open air but here because of the changing climatic conditions, especially because of frosting in winter, the germinating seedlings get damaged even though we use polythene sheets provided by the agricultural sector here," said  Sonam Rinchen a farmer from Jalikhar of Chhoekhor Gewog.
"We face problems with irrigation water and we have to share whatever little water is there," said Sonam Choden, another farmer, from Jalikhar.
"The Dzongkhag Agriculture Sector provided a water pump for irrigation and those farmers who have their fields along the river use it but others have to depend on a small pool of water. The shortage is set to get acute with more people now considering cultivating paddy."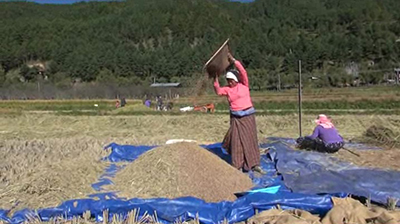 Besides, a new weed has started growing in the paddy fields. It has affected the crops of about six farmers. The weed, locally known as Shochum, is an aquatic herb native to mid-altitude areas such as Punakha and Wangdue Phodrang.
The weed is said to have spread in Bumthang after some farmers started transplanting seedlings grown in Thinleygang in Punakha. Recently, a group of officials from the National Plant Protection Centre (NPPC) in Thimphu met with the farmers here and conducted an awareness program on the affects of the weed.
"Bumthang is one of the districts that practices organic farming, so we have not issued any herbicides to get rid of the weed and we don't want to use it in the future as well," said Nidup Dorji, the Plant Protection Supervisor with NPPC.
"So, as an interim measure, we are encouraging farmers to try Soil Solarization and Frost Treatment in their fields. These methods help burn the roots of the weed."
New challenges are setting in but that is not holding the Dzongkhag Agriculture Sector back from its plans to try out rice cultivation in places in the dzongkhag that currently do not grow rice. Currently, only two gewogs- Chhoekhor and Tang- grow rice. But when the 12th Five Year Plan starts next year, the dzongkhag wants to take paddy cultivation to more gewogs.
"In the 12th Five Year Plan, we are going to test the cultivation in the lower region of Choongphel village in Chhumig Gewog," said Gaylong, the Dzongkhag Agriculture Officer.
"These places have potential to grow paddy because of large plain fields and favourable climatic conditions."
Currently, paddy is grown in over one hundred sixty acres of arable land in Bumthang and Jakar Rey Naab is the most popular rice variety grown widely in the dzongkhag.