More shopkeepers registered with BoB for QR Code facility
Passang Dorji, Thimphu

Oct 19, 2017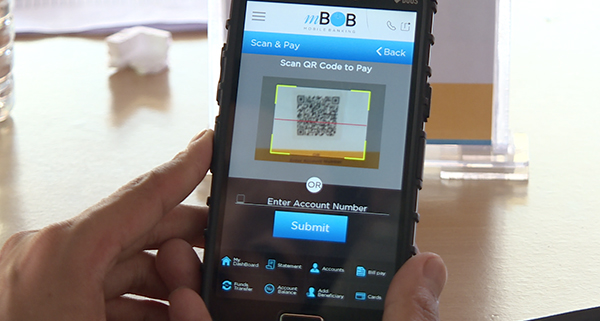 An overwhelming number of shopkeepers have registered with the Bank of Bhutan (BoB) Quick Response or QR code facility. First of its kind, the "Scan to Pay" was launched last month to make payments seamless and easy.
A little over a month since the launch, today, the number of registered merchants for the facility has increased from 25 to 136. This, according to the users, is because "Scan to Pay" is simple to use, saves time and thus efficient.
"In a day, we come across at least 10 customers looking for QR CODE service. Some of them do not bring cash with them, and when they cannot go to an ATM to withdraw, they prefer to use this service," said Dorji Dhendup, the owner of Goenzang Sales in Thimphu.
Others also said the service is gaining popularity among the BoB staff and customers.
"Almost 30-40 passengers have used the service till now including the BoB staff. Also, I made other customers aware of Scan to Pay by making them to use it," said a Taxi Driver, Arjun Dahal.
Considering the response, BoB has already embarked on making the service available across the country.
"We have covered almost all the dzongkhags except Tsirang and Gasa. In Thimphu, we have 50 agents in Thimphu and rests are all spread in all the other dzongkhags," said Pema Nadik, the Chief Executive Officer (CEO) of BoB.
While BoB plans to take the service to more people, some shopkeepers said more awareness needs to be created regarding the facility.
"I don't see people using the facility much because they are not aware of the facility much," said a Vegetable Vendor, Leki Wangmo.
With the QR CODE facility, people can make cashless payments without account details of the shopkeeper. It appears on MBoB as soon as one scans the OR CODE provided to the shop by the bank.