Paro International Airport gets a makeover
Sangay Chezom, Paro

Oct 12, 2017
Paro International Airport is getting a facelift with construction of parallel taxiway and re-modification of departure terminal building. The new arrangement is being made to improve efficiency in handling more number of aircrafts by easing air traffic.  
The taxiway will become operational by February, next year and will be used when a plane prepares to take off to reach the end of the runway without having to wait for another flight which is about to touch down. Airport officials said the new facility will help them manage over 45 flights per day.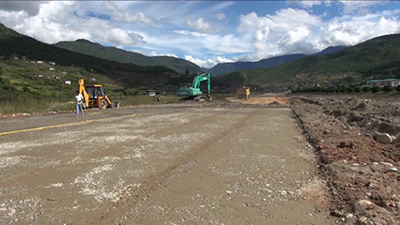 "Yes, we will definitely handle 45 flights in a day. Earlier especially during wind curfew in February till May, we had very limited operating hours. So we could only handle around 15 flights," said Karma Wangchuk, Director of Department of Air Transport. "There are talks that other airlines may land here in future. a few private jets have already landed here."
The parallel taxiway is being built with fund of over Nu 160m. Under the re-modification of departure terminal building, more number of check-out counters will be set up to cater to increasing number of passengers. The work is expected to be complete by July, next year.
"With this current building, we can handle over 200 passengers at one time, but once the terminal is extended, we can definitely handle over 700 passengers at one time. We will have three boarding gates like each dedicated to each Sector," said the Director. "Just now we have one boarding gate and when over passengers for over two flights check-out all together, it becomes crowded."
Air Transport Department also has plans to build new professional cargo terminal equipped with all the required facilities. It will even relocate the substations to expand the parking lounge near the arrival terminal.
Paro International Airport is the sole international airport in the country. It became operational in 1983.