Dzongrabs, Drungpas meet for first-ever coordination meeting
Karma Wangdi, Sarpang

Oct 11, 2017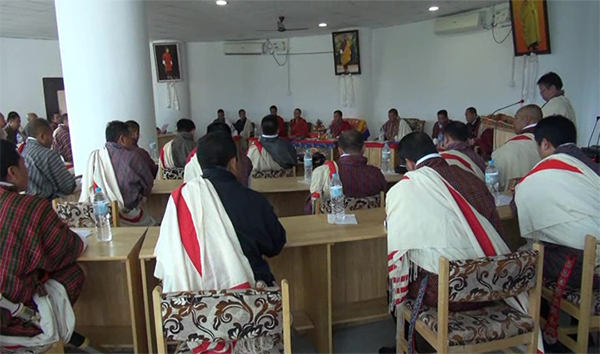 Dzongrabs and Drungpas from all 20 districts are congregated for the first-ever coordination meeting in Gelegphu today. During the meeting, they will share common problems and issues concerning their respective dzongkhag and drungkhag administrations.
Participants will also identify shortcomings and create a network system among themselves to tackle issues through collaborative and consultative approach.
"The responsibilities shouldered by Dzongrabs   are also confronted with challenges and same is the case with the Drungpas and that should be known by the government," said Lungten Dorji, the Director General of Department of Local Governance with the Ministry of Home and Cultural Affairs.
Sarpang Dzongrab Tharchung Kencho expressed his concerns for not being able to fully utilise the Dzongkhag Development Grant (DDG) albeit developmental works are in full swing. He pointed out that while bidding for contract works, contractors quote lesser amount than the actual one fixed by the government.
" So, DDG fund is not fully used and to mobilise the remaining fund, it takes ages to seek approval from the government and this has an adverse impact on the ratings of an individual officer in Annual Performance Agreement," the Dzongrab added.
Gelephug Drungpa Sonam Tshering echoed similar views.
"DDG has proven useful but it has to be approved by Dzongkhag Tshogdu."
The Budget Officer said the issues will be forwarded to the concerned ministries for further deliberation and review. Apart from this, Dzongrabs and Drungpas were briefed on Accounting and Budgeting Manuals, Procurement Rules and Regulation, and auditing system and procudures. They were also familiarised on Managing for Excellence ( MaX) by the Royal Civil Service Commission. The two day coordination meeting ends tomorrow.