Accounts assistants take part in financial management training
Kinley Dem, Thimphu

Oct 3, 2017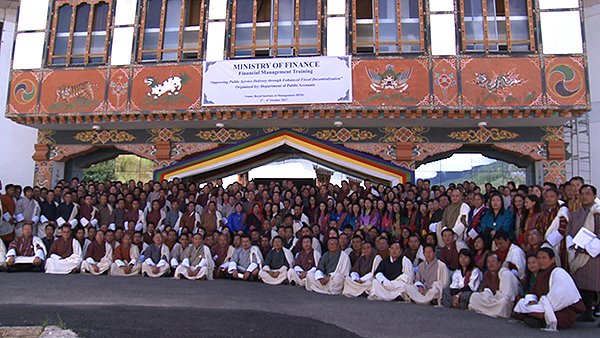 Accounts assistants in the country are expected to perform better with the financial management training they are currently attending. More than 500 of them are taking part in the four day training.
The training, aimed at improving public service delivery through enhanced fiscal decentralization, started today in Thimphu. It is a first of its kind in the country and the finance ministry plans to make it an annual event.
The account assistants will be equipped with an updated knowledge on some of the new initiatives and developments in the Public Financial Management System.
"The main objective of the training is to educate the accountants, mainly at the local government levels posted in the rural areas and also other autonomous agencies, with the major reforms that the ministry of Finance has initiated," said  Nim Dorji, Finance Secretary.
"The major reforms include the revised Financial Rules and Regulations 2016, e- payment system and cashless payments, especially fuel cards and electronic government procurement."
The officials from finance ministry also said the training will provide the participants a platform to discuss and deliberate on job related issues and challenges.
The Royal Civil Service Commission (RCSC), the Royal Audit Authority (RAA), and the Office of Anti Corruption Commission (ACC) will make presentations at the training.