Pregnancy exercises gain popularity among expectant mothers
Sonam Pem, Thimphu

Oct 2, 2017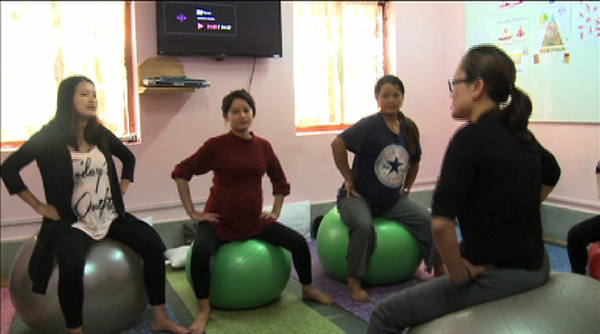 If the number of pregnant women visiting the national referral hospital for exercise is any indication, then exercise is gaining popularity among the pregnant women in Thimphu.
Exercising during pregnancy is important as it offers many physical and emotional benefits thereby decreasing the risks of pregnancy-related complications.
Pregnancy is the most powerful creation as it gives women the strength, to grow a life inside her. And as each day is inching closer for the expecting mothers towards the big day, they have been regularly coming to the maternity exercise unit to improve their ability to cope with labour.
"During pregnancy we have lots of changes going on in our body. We need relaxation, body gets tired and experience food aversions. That time when we do this kind of exercise, it helps in relaxing our body. There will be a proper blood circulation that helps a mother and even for our foetus also," said Renuka, who is expecting a baby. "There are many advantages while doing exercise. So I always encourage every mother to do this because though this is my third time but every time I have a pain I just continue whatever I learn from here and do it at my home and it helps me a lot."
The physiotherapy technician of the national referral hospital said the dwindling number of visitors has changed over the years and more women are taking up the exercise. She added that pregnant women should start exercising only after the six months of her pregnancy. And exercises should be done only under the supervision of the experts.
"It is very important for women to exercise during pregnancy as she undergoes a lot of physical and mental changes in her body. Swelling of legs, body aches, cramps and various other problems related to pregnancy can be reduced by doing exercise," said Kinzang Dema, the Physiotherapy Technician, adding that continual exercises can help women have normal deliveries which means without having to go through caesarean.
While pregnancy drains a woman's energy, regular exercise can strengthen muscles, which help the body to cope better with aches and pains during pregnancy phase. The centre started the maternity exercise unit in 2014 to give basic and advanced level of exercises for the expecting mothers.