Farmers in Bumthang propose for farm tractors
Kipchu, Bumthang

Sep 28, 2017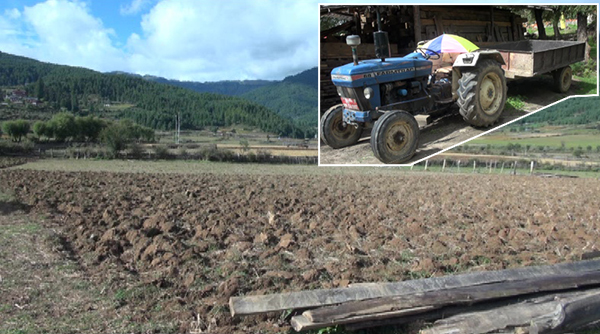 People of Bumthang are proposing for farm tractors instead of power tillers to boost their agricultural works.
The matter was discussed in the last Dzongkhag Tshogdu (DT). The government pledged to provide a power tiller each in every chiwog during its political campaign in 2013.
Currently, all four gewogs have a tiller each which they received from the government two years ago. Though the farm machine has been useful for the farmers thus far, people say, broader and larger tilling machines would best suit the landscape of the district. Bumthang has over 1100 acres of arable land which are largely plains that spread across the valley.
"There are around 10 to 11 power tillers in a village for about 15 households. So, at the moment, the tilling works are doable with them," said Chundu Tshering, the Mangmi of Chhumig Gewog. "But, we have a large area of plain fields which are mostly left fallow, so it's difficult for power tillers to plough them all."
Officials from other gewogs also said tractor is more effective than a power tiller.
"During the potato sowing season, when all the fields have to be tilled at a time, the only power tiller we have at the Gewog Centre can't meet the demands of all the farmers," said the Tshogpa of Kharsa-Thangbi Chiwog under Chhoekhor Gewog, Kinley. "A tractor can plough the fields of an entire village in a day, so it will be more beneficial. Therefore, we would like to propose for the tractors to the government."
Apart from reducing drudgery of farming, gewog officials said farm tractors are useful in addressing waste issue in the community.
"People are facing difficulties in dumping wastes at the Dzongkhag landfill site. So, if we receive a tractor, it would not only benefit in agricultural works but also in managing wastes," said Chhoekhor Gup, Pema Doengyel.
The Dzongkhag Agriculture Sector is to discuss the issue with the Agriculture and Forests Ministry soon. Today, there around 220 privately owned power tillers and over 80 farm tractors in Bumthang.