Bhutanese U-18 team's winning streak comes to an end
Passang Dorji, Thimphu

Sep 23, 2017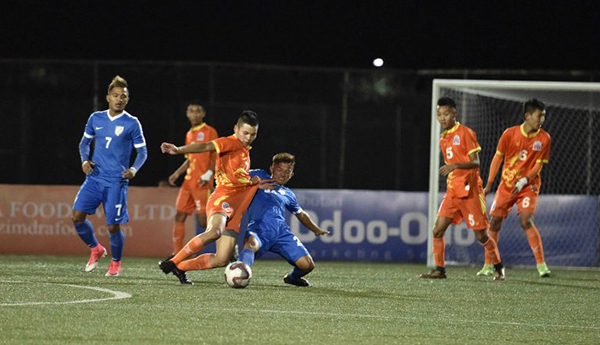 The winning streak for Bhutanese Under-18 football team in the ongoing SAFF Championship ended as they suffered a 3-0 defeat to India, yesterday.
The Indians dominated and left tired Bhutanese players flat footed in most parts of the match. After suffering a shock defeat in their first match, they came out on all force. India dominated the midfield and restricted Bhutan to long balls from the defense, which lead to nowhere.
Bhutan was lucky not to have conceded an early goal when this penalty opportunity was blasted over the crossbar by the Indian striker. However, it did not take long for the Indians to break the deadlock. A lapse in concentration by the Bhutanese defenders while dealing with a third consecutive corner lead to the opener.
The second half was no different to the first – with India attacking and Bhutan struggling to clear the deal with the inflow of attacks. India's search for a comforting second goal went deep into the second half. And when it came, it was striker Lalawmpuia yet again as he wrong-footed several Bhutanese defenders to fire a shot from 20 yards out. Bhutan's Karma Sonam Tenzin could do nothing about it, despite diving as far as he could to get to the ball.
India pushed on to add their third goal in the 91st minute. 3 – 0 is how it finished, and a lot on the table to think about for the Bhutanese Under 18 Coach, Song Jun Lee, before the next match against Bangladesh.
"First of all it was a very good performance from India. There were lots of individual skills, speed, toughness and they played well. And Bhutan's loss is totally my responsibility," said Coach Song Jun Lee. "Our team needs more skill, ball stopping skills and physical, kick and individual skills. They need more practice. They have worked hard every day but it is my responsibility."
The Indian U-18 team said defeating the Bhutanese team was not easy. "I am really surprised the way Bhutan has played in this tournament. And it's a very big improvement from what I saw in the last edition of SAFF in Nepal. That credit should go to the coach and the federation," said Coach of India U-18 team, Pinto Floyd. "It was not an easy game for us. And the score line three zero may look good but it was much tougher than that."
Next up, India will face the Maldives on Monday, while Bhutan will take on Bangladesh on Wednesday.