Bhutan defeats Nepal 1-0
Sherub Dorji, Thimphu

Sep 21, 2017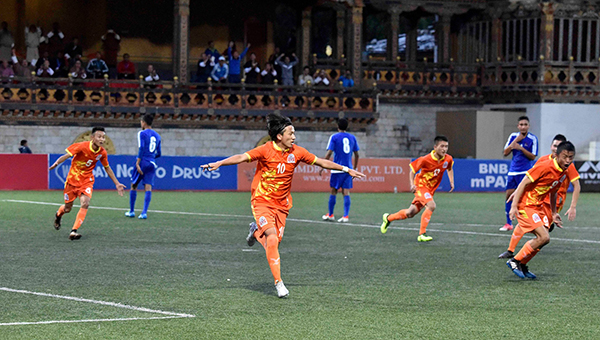 The Bhutanese under-18 (U18) team defeated Nepal 1-0 in the SAFF under-18 Championship. In what was a closely contested match at the Changlimithang yesterday, Bhutan defied all odds to stun Nepal.
Coming off the back of an opening day victory against the Maldives, the Bhutanese players matched Nepal toe to toe. Several goal scoring opportunities were created in the first half.
Bhutan had a chance of their own but Nepal keeper Arpan Karki produced a brilliant save to match the shot. Both teams went into the half time knowing they could have opened the scoring. Second half started in a high octane fashion. Nepal were determined to score early in the second half. They did find the net once only to be disallowed by the offside flag.
The match was heading to a stalemate when a handball inside the box was spotted by the referee and he pointed to the spot. Orgyen Wangchuk Tshering stepped up and slotted home the penalty. The lone goals was enough as Nepal could not breach the Bhutanese defence.
The defeat puts Nepal in an uncomfortable situation in the championship. However for Bhutan, a sweet three points and a lot of confidence before the match against India.