Hong Kong's Craigengower Cricket Club plays against Bhutan's Veterans' Team
Sherub Dorji, Thimphu

Sep 17, 2017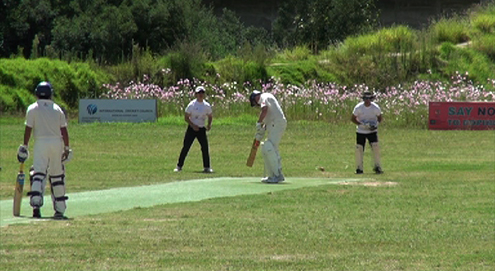 Craigengower Cricket Club, a Hong Kong based 123 year old club, is in the country to play a four match series against Bhutanese cricket clubs.
The club arrived in the country yesterday and played their first match today against the Bhutanese veterans' team today.
Craigengower captain, Rodney Miles, won the toss and elected to bat first. The two openers stepped onto the field for batting. The captain, being one of the openers himself, was dismissed in the fourth ball of the match. His team mates, however, put up a respectable 224 runs in 30 overs.
Captain Rodney Miles later said the club is in Bhutan not just to play cricket but to spread the love for the game.
"We like to help spread the word of cricket, encouraging those countries that are developing in a big way," he said.
"We can see enthusiasm and commitment is there among the Bhutanese people. We would love for you to continue to develop and become a significant part of the Asian region."
The Craigengower Cricket Club players bowled and played well throughout the match to win their first match of the series. They will now take on the winner of the recently concluded BCCB Super League, Takin City, tomorrow.