Cervical cancer affects more than 50 women every year
Choni Dema, Thimphu

Sep 14, 2017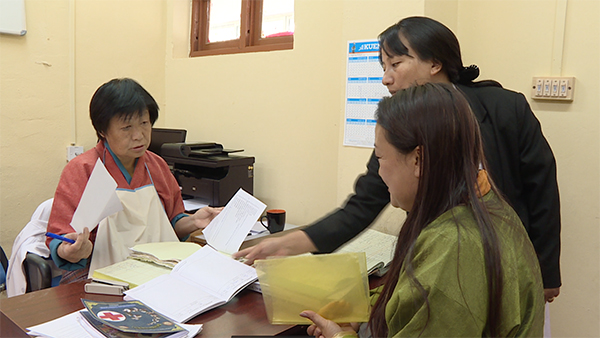 Despite awareness programmes, health officials say getting women to undergo Pap smear or Pap test remains a daunting challenge. This perhaps explains the growing number of cervical cancer cases, the most common cancer affecting Bhutanese women.  
More than 50 cases of cervical cancers are detected every year. Pap smear is a test to screen for cervical cancer and regular Pap tests are crucial for early detection.
But Dr. Ugyen Tshomo, a Gynecologist with the national referral hospital, says raising awareness on cervical cancer and educating women on the importance of Pap test remains a struggle for the health sector.
She added that quite a number of women diagnosed with cervical cancer have turned out to be the ones who did not collect their Pap smear reports. There are others who did not turn up for colposcopy.
"Colposcopy is something that has to be done with women with abnormal pap smear,' explains Dr. Ugyen Tshomo.
"Some women have done Pap smear as well as colpococpy but they did not come for follow up tests. Cervical cancer is preventable if our women come forward for Pap smear and also do follow up."
Most cervical cancers are diagnosed in women who are in their 50's, while a few are in their 20's and 30's.
Dr. Ugyen Tshomo said before 2008, cervical cancer patients accounted for the majority of the referral cases. Today, it is the sixth most referred case after breast, lung, head and neck, blood and thyroid cancers.
The drop in number of cervical cancer referrals is because patients detected in the early and later stages are now treated in the country. Only the cases that require radiation therapy are referred to Kolkata in India.
"The cases detected early through Pap spear are treated in Bhutan," shared Doctor Ugyen Tshomo. "The ones detected very late where radiation cannot be given are also not referred. They are treated with what we call palliative chemotherapy."
Palliative chemotherapy is treatment designed for terminal cancer patients to prolong survival and ease symptoms but not cure disease.
However, the incidence of cervical cancer remains the second highest after stomach cancers in the country.
Cervical cancer occurs in the cells of the cervix and is sexually transmitted and caused by the Human Papilloma Virus. To prevent the cancer, the health ministry launched the Human Papilloma Virus (HPV) vaccine programme in 2010.