Inspired by a film on eye donation, many pledge to donate eyes
Namgay Wangchuk, Tsirang

Sep 12, 2017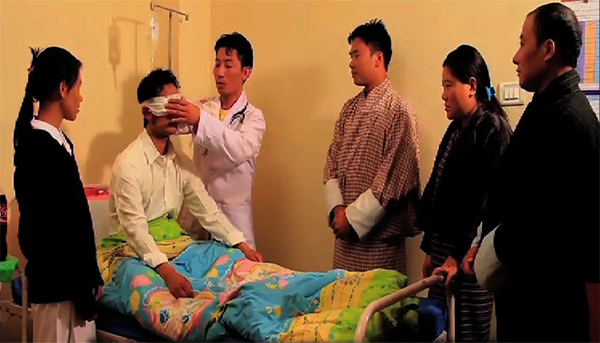 A short film about eye donation has struck a chord with the audiences. Moved by the film's touching storyline, more than 6,000 people have pledged to donate their eyes after their death.  
A team from the Blind Music Training Centre in Thimphu had screened the 35 minute film- Suffering in the Darkness- in five dzongkhags so far, most recently at the Daga Central School in Dagana.
The film tells a story about two visually impaired lovers who undergo cornea transplantation.
Sonam Choki, a student of the Daga Central School, is among the thousand others who made up their mind to join the eye donor registry after watching the film.
"Our eyes are donated only after we die, so I don't think this is an impossible task," she said. "Donating our eyes can bring light in someone else's life."
Her school mate Tshering Dorji echoed the same views. "It's not like you are giving your eyes to someone while you are still alive," he said.
The Founder of the Blind Music Training Centre, Jigme Namgyel, said the documentary explains how a cornea transplant is done. "After the screening of the film, a lot of people came to us and shared that they had not much idea about eye donation till now," he said.
"Now that they know, they came forward and signed with us, pledging to donate their eyes."
Meanwhile, with approval from the education ministry, the team collects cash donations by screening the film to help manage the training centre. So far, three visually impaired students have passed out from the centre and are now serving as music teachers in schools.
The team plans to screen the film in the remaining 15 dzongkhags. Schools and dratshangs are the target audiences.