People request for permanent solution as swollen river washes away Buduney road
Damcho Zam, Samtse

Sep 7, 2017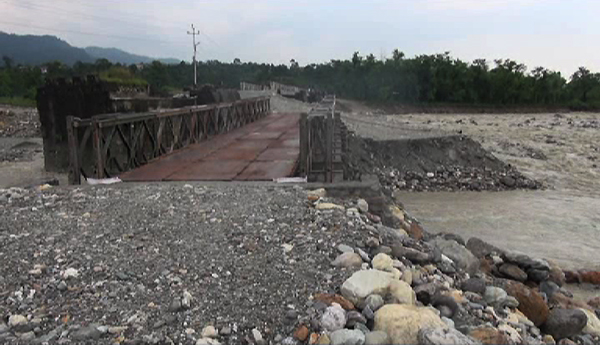 A part of Samtse-Tashichhoeling road in Samtse has been washed away by the swollen Dhamdum River at Buduney on the morning of September 5 following heavy downpour.
The same portion of road was damaged last month due to incessant rainfall. That time, the commuters could not ply for about two days.
With the same issue again, people plead for a permanent solution by either building a bridge or a road in the area. Department of Roads has however built a temporary bridge to keep the road open to traffic right after the September 5 incident.
"I see government building bridges here but all are temporary," said a commuter, Dorji. "Instead of spending money in building temporary bridges, it would be better if a permanent bridge could be constructed."
Some people also claim that the Natural Resources Development Corporation Limited (NRDCL) collecting boulders from the river caused damages to the road.
"Whenever the river subside, more than 20 truckloads of boulders are collected from the river," said a Samtse resident. "Thus, the river washes away even the trees that were planted when there is rainfall."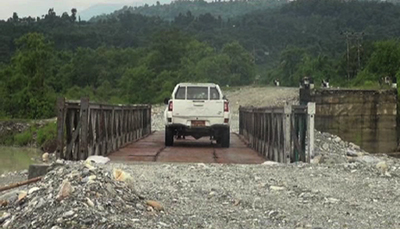 But NRDCL said they have all the clearances to collect the boulders and that they would immediately stop the boulder collection if it poses risk to the public.
Meanwhile, it has been over five months since Department of Roads (DoR) started diverting the course of Dhamdum river and the works are still being continued. The DoR officials said diverting the river would at least solve the problem instead of building the road again. However they said a permanent bridge will soon be constructed after the monsoon season is over.
"This newly built bridge is for temporary use and we have not spent much here," said the DoR's Executive Engineer in Samtse, T.B. Powdyel. "As of now we are diverting the river to another course and we are quit e late due to delay in arrival of some materials."
However the Executive Engineer assured that there will not be any problem after the diversion is complete.
The Samtse-Tashichhoeling road connects around eight Gewogs of Samtse with the remaining Gewogs.