Unknown ant species destroys beehives in Samtse
Damcho Zam, Samtse

Aug 27, 2017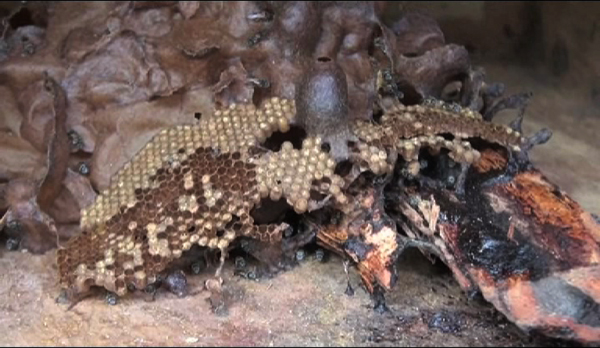 An ant species unknown to the locals has become a menace to the beekeeping farmers in Dophuchen Gewog in Samtse. The ants, farmers say, gets into the beehives and damages it.
The farmers in the gewog commercialized beekeeping starting last year. Five farmers sold honey for the first time. It fetched them good money.
27-year-old Purni Maya Bhandari is one of them. She started raising a different species of bee known as Apis Trgona, whose honey is expected to fetch around a staggering 7 thousand ngultrum a kilogram. But now there are more ants than bees in more than half of her 12 beehives.
"The ants have chased away most of the bees from the hives," said Purni Maya Bhandari. "I don't know what to do to stop the ants from entering the hives and destroying it. Previously, we used to sell about nine kilograms of honey for Nu 500 per bottle. Not anymore."
She said the ants appear during summer months, which is also the time to harvest honey.
The farmers have sent a sample of the ant to the Research Development Centre in Bumthang for identification. They hope the identification will help them come up with ways to prevent the ants from entering the beehives.
Beekeeping gained popularity among farmers in the gewog only recently though every household owned traditional beehives since the 1980s.
Today, despite the odds stacked against them owing to the threats posed by the ants, beekeeping farmers in Dophuchen are optimistic. They want to carry on with the business.
There are around 15 farmers involved in commercial beekeeping. The  honey is sold to a local businessman, who then supplies it to markets in Thimphu.