Sustainability of Ura mushroom festival in question
 Kipchu, Bumthang

Aug 27, 2017
The people of Ura Gewog in Bumthang are preparing to celebrate the future Annual Mushroom Festivals on their own as the Phrumsengla National Park considers withdrawing its financial support to the festival.
In a first step towards raising fund to sustain the festival, the Gewog Administration has decided to collect rent from the stall owners starting this year.
The Gup of Ura, Khandu Wangchuk, said it would be difficult to say whether or not the gewog would be able to bear the overall cost of hosting the festival. "We have to host the guests and pay the dancers performing cultural items," said the Gup.
"With no budget, it would be quite difficult for us to manage. That's why we have decided to raise funds for the festival from this year."
The festival could not be celebrated for three years from 2010 to 2012 owing to budget constraint. The Phrumsengla National Park spent over Nu 300,000 for the 7th annual mushroom festival this year. The park says it's about time the responsibility is handed over to the community. The park has now funded the festival for seven times since 2008.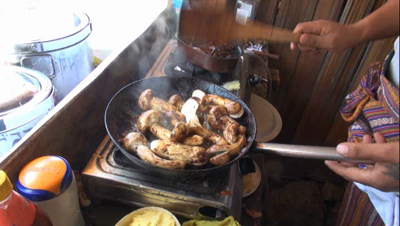 While the gewog officials seem doubtful, the park officials are confident the community would be able to manage. "The community knows how much income is generated from the sale of different types of mushrooms that grow in their locality," said Ugyen Namgyel, the Chief Forestry Officer of the Phrumsengla National Park.
"When they can earn that much of income, we thought it wouldn't be a problem for them to stand on their own feet."
The annual mushroom festival celebrates Ura's rich culture and pristine nature. The festival has turned out to be a main tourist attraction in the valley since it was first held in 2008. It features dances, advocacy programmes, cultural items and, of course, diverse foods and drinks made from mushroom.