Towards a green hospitality sector
Pema Seldon Tshering, Thimphu

Aug 26, 2017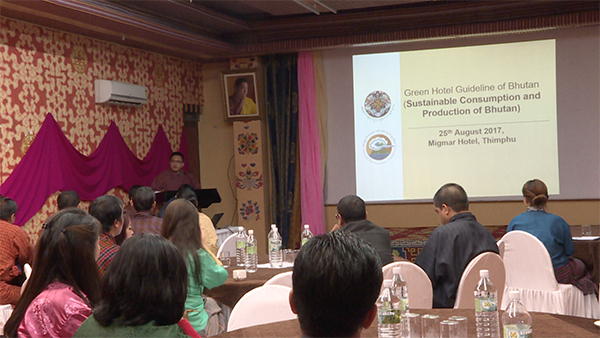 To encourage hotels, restaurants and tour operators to go green, the National Environment Commission (NEC) has developed a Green Hotel Guideline. The commission conducted a workshop on it in Thimphu yesterday.
As per the guideline, going green would require hotels to provide separate bins for different recyclable waste products, both in the rooms and public areas inside as well as outside the hotel. This is to encourage and promote recycling.
Going green would also mean using only 4 or 5 star rated electronic appliances for effective energy conservation and using rain water for gardening and other purposes.
A Program Officer with NEC, Karma Tshering, says going green goes beyond the construction of the hotel itself. "We talking about going green within the service sector also, staring from the office management to the front desk," he said.
The Chair of the Hotel and Restaurant Association of Bhutan (HRAB), Thinley Palden Dorji, and the Green Hotel Guideline will immensely contribute towards environment conservation.
"It's good to see the initiative by NEC, which will, I guess,  in a way formalise  and make it more acceptable to do this kind of activities within the hotels, and there is a lot we can do," he said.
"It's a win-win situation, win for the environment and win for the hotels, because quite often what we see is when we are green and clean, it's the activity that helps reduce the causes."
The NEC launched the Green Hotel Guideline in June.