Teachers to advocate and address drug related issues in schools
Pema Seldon Tshering, Thimphu

Aug 12, 2017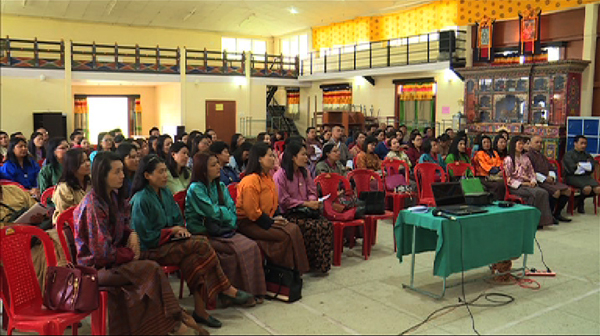 Toward promoting drug-free school, the Bhutan Narcotics Control Authority (BNCA) trained over 200 teachers in Thimphu on 'Understanding Drug Use and Science of Addiction' today.
Following the programme, teachers are expected to actively participate in advocating and addressing drug related issues among students.
The Participants, primary and lower secondary teachers, were briefed on the root causes of addiction and ways to identify those students into substance abuse. The BNCA officials say that such habits can start at an age as early as 13 years old, the time person enters the adolescent stage. Through this programme, the BNCA expects to provide early detection and timely support to the students.
"We organized the workshop to empower all the teachers with the basic understanding of drug and science of addiction so that every teacher can recognize the problem of drug issue and help create a drug-free school," said BNCA's Chief Programme Officer, Nima Damdul.
"If somebody is into substance abuse, it is important for us to understand and talk to them about their problems," said a Counsellor, Kuenzang Choden adding that  based on the assessment they can refer the person for right treatment.
The workshop would help schools to come out with substance use policy.
"I think every teacher is aware of drug abuse and I think teachers will be the right people to go and create this awareness among the children back in school," said a teacher of  Zilion Namgayling Primary School, Dorji Dema.
The Vice Principal of Lungtenphu Lower Secondary School, Chencho Wangmo, believes that "the responsibility to advocate on issues of drugs does not lie just with the school counsellors. In fact, every teachers should shoulder the responsibility."
Similarly, BNCA also trained Higher and Middle Secondary school teachers of Thimphu Thromde in June this year. The Authority also plans to train school teachers across the country as well.