Finance, Economic Affairs Ministries target for sustained economic growth
Sonam Pem, Thimphu

Aug 12, 2017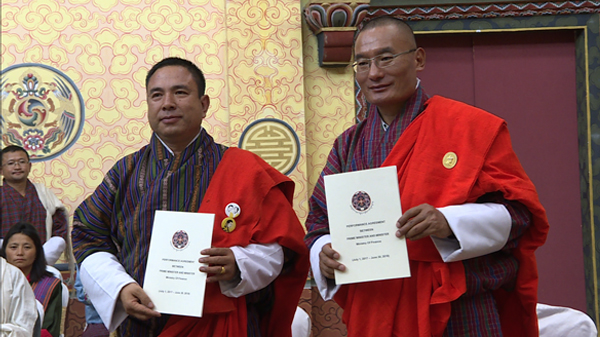 Achieving the Gross Domestic Product or GDP growth rate of more than 6.1 percent is one of the many targets the Finance Ministry has set as part of its Annual performance Agreement with the government.
This is to ensure sustained economic growth. The ministry signed the Annual Performance Agreement with the Prime Minister, Dasho Tshering Tobgay yesterday.
With the signing of the agreement, the ministry aims to improve efficiency in government's spending on most commonly used goods and develop concept paper for introduction of Goods and Services Tax or GST in the country. The ministry also commits to contain fiscal debt below 4 percent of Gross Domestic Product.
The Economic Affairs Ministry also signed its Annual performance Agreement with the Prime Minister. Being the last year of the 11th Five Year Plan, the ministry commits to enhance export, develop industrial parks, cottage and small industries and establish earthquake monitoring stations among others.
With this the government completes APA signing with all the ministries for the fiscal year 2017-18.