Bumthaps wish motorway to Pedtsheling Goenpa renovated soon
Kipchu, Bumthang

Jun 18, 2017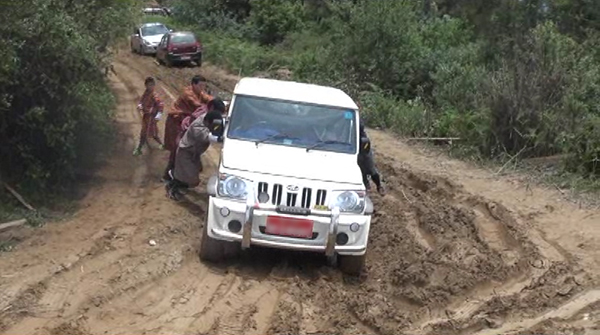 If you are headed towards Pedtsheling Goenpa in Bumthang, you are in for a bumpy ride. Several stretches of the 11-kilometre road that leads to the monastery are rough, muddy, and poorly maintained.
The problem aggravates as hundreds of devotees gather at the monastery for the annual Phurbiwang.
The initial part of the road that heads towards the monastery from Bathpalathang Airport is comparatively better and most vehicles scrape along its six-kilometer stone soling. The problem begins from the remaining part of the road that doesn't have a proper drainage system and soling.
Skidding tyres and slipping cars are a familiar sight along the road especially on an occasion of the Phurbiwang when hundreds of people visit the monastery to receive blessings from ancient relics and Pedtsheling Trulku himself.
Most of them land up leaving their vehicles parked along the roadside surrendering to its extreme conditions.
"In the first two kilometres or so, the soling is not properly maintained and that dents our cars especially the crown and gearbox. There is no soling thereafter and the road is too narrow and muddy," said a resident, Sonam.
Cabbies also shared similar views and poured out their frustration for inadequate parking space as scores of vehicles were lined along the road.
"It is a treacherous ride but we make do with it as everyone is here for the blessing. We taxi drivers are also facing a lot of difficulties but the condition of the road would improve if the government can invest some budget in it," said Kezang, a Taxi Driver.
Of the 11 kilometre road, only two kilometres were built as a farm road through government's assistance in early 2000. The remaining nine kilometres were built about a decade ago under Pedtsheling Trulku's initiative.
The monastery worries that pilgrims and devotees might fall victim to an accident anytime soon.
"People from about six different districts come here to get blessings annually as the occasion has been popular in the region from ancient times. So, with such a huge crowd, we fear that the road might cause accidents as it's the only way people can get here. Moreover, it's too for those who opt to walk here," said Khenpo Wezer Dorji of Pedtsheling Goenpa.
The Phurbiwang marks the end of a three-day annual ritual (Kuchoe) celebrated in the memory of the monastery's first abbot (Pedtsheling Trulku Kuthreng Dangpa). As the devotees go back home, everyone feels accomplished but their only desire is to see a better road when they come back for the ritual next year.