DHI's income increases by 11 percent
Passang, Thimphu

May 26, 2017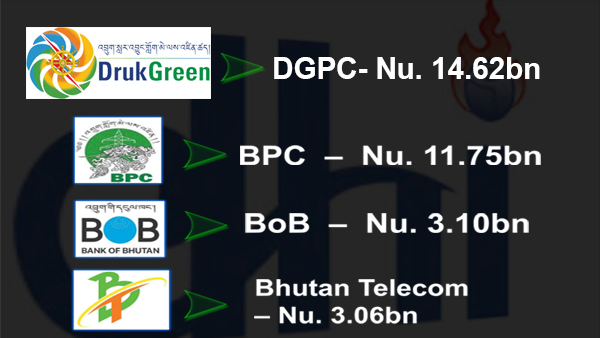 Druk Holding and Investments (DHI) recorded an increase of Nu 4bn in its total income for the year 2016. This is an increase of 11 percent from 2015, according to its annual report released today.
DHI's consolidated income in 2015 was Nu 39bn.
The report attributes the income growth to an increased revenues of the DHI owned companies under energy and resource, and manufacturing sectors.
The energy and resource sector saw its income rise by over Nu 2bn, while the manufacturing sectors witnessed a growth of over Nu 1bn.
The Tala, Chhukha, Kurichhu and Basochhu power plants under Druk Green Power Corporation (DGPC) remains the major revenue generators. The four power plants contributed about Nu 15bn last year.
The Bhutan Power Corporation (BPC) is second with a contribution of about Nu 12bn. It was followed by Bank of Bhutan and Bhutan Telecom with a little over Nu 3bn each.
DHI owns 26 companies covering hydropower, telecommunication, aviation, natural resources, banking, insurance, manufacturing, infrastructure and trading.
DHI's net worth is over Nu 79bn.