Poor feeding practice blamed for stunting in children
Sonam Phuntsho, Thimphu

Apr 28, 2017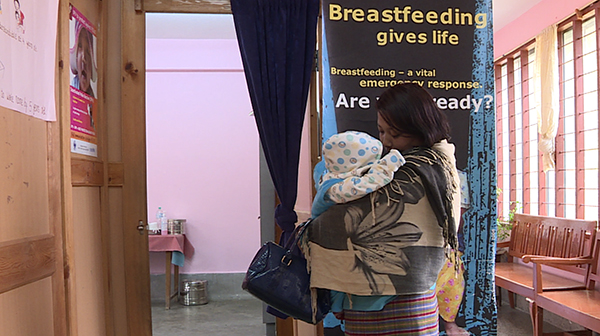 The major cause of stunting in the country is attributed to poor feeding practice. This was spelled out in the National Nutrition Survey report, 2015.
Close to 90 percent of children between the ages of 6-23 months do not meet the World Health Organisation (WHO)'s recommended minimum acceptable diet. It indicates that there is a vast gap in dietary diversity and meal frequency contributing to stunted growth in children.
Though the rate of stunting has declined in last five years (2010-2015), the National Nutrition Survey 2015 mentions that stunting is still a major problem.
The national rate of stunting today stands over 21 per cent and this is hugely due to child feeding practice which survey indicates is poor.
The Senior Nutritionist with the Department of Public Health, Ministry of Health, Laigden Dzed said, "Our survey shows that only 11 per cent of our children in Bhutan have the minimum acceptable diet. This means that close to 90 per cent of children do not have the WHO recommended minimum acceptable diet in the country and this is a major concern".
To address the issue, the health ministry with assistance from UNICEF have developed a locally recipe guideline to improve dietary diversity. The ministry has a plan to introduce micro-nutrient powder, a home fortification project.
There is also a pilot project called mother and baby friendly health facility implemented to improve the feeding practice.
"This initiative will improve the quality of care that we give to expecting mothers. This will also improve the counseling that is given to mothers so that they can better take care of their children. When they come to the health facility, they will know the techniques of breast feeding. They will know when they should feed the complementary foods, what are the complementary foods that they need to give to their babies," added the Sr. Nutritionist.
Stunting is a very low height for age effecting children deprived of micro-nutrient which occurs when the child is below age of two. It is largely irreversible if not treated. The survey shows one in five children under the age of five are stunted in the country and this is mostly concentrated in the eastern region affecting the poor households.