His Majesty in Tshenkari, Nganglam where fire gutted shops and houses
Thinley Dorji, Pema Gatshel

Mar 20, 2017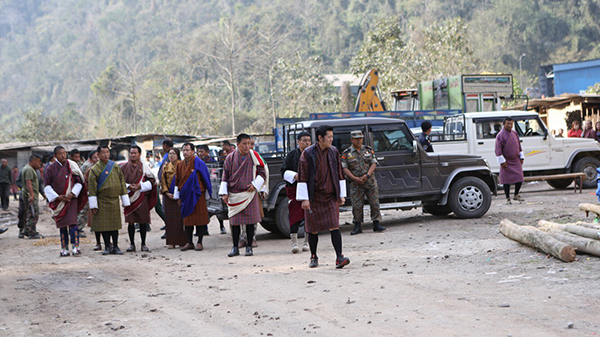 His Majesty The King has arrived in Tshenkari, Nganglam in Pema Gatshel where a fire disaster this morning has destroyed nine shops and five houses.
The fire, which broke out in the early hours of morning, has also burned down two vehicles- a bolero and a maruti car. No casualties have been reported though.
The fire is believed to have started from one of the shops at around 2:30 am and spread quickly to eight other shops and five houses. The cause of fire is yet to be ascertained.
Kunzang Choden, one of the fire victims said she slept only around one in the morning. A strange sound woke her up shortly. "At first, I thought my cattle were being attacked. I looked out to check and then saw the fire".
Meto Pema, another fire victim said by the time they realised it was a fire, it has spread and was too big to be controlled.
DeSuups, police and army personnel managed to save the last two shops in the same line from catching fire. The team was able to bring the fire under control around 6 am. It took them another two hours to completely put out the fire.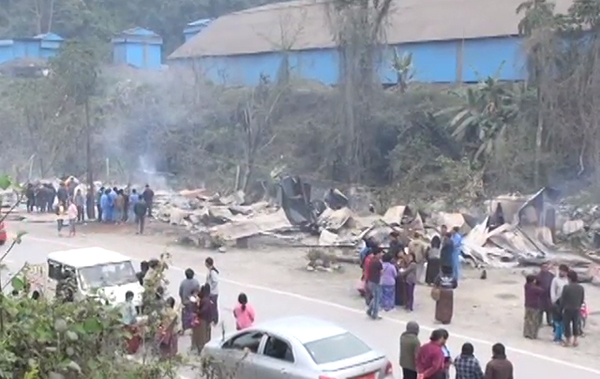 The affected shopkeepers and families have not been able to salvage any of their belongings. They watched helplessly as their shops and homes went down in flames. Most of the shopkeepers had set up the shops with loans.
Meto Pema is devastated. "I could not save anything. I don't know how I will repay the loan. It will be difficult to start from the scratch again".
The Dungkhag disaster management team has distributed emergency relief kits to the affected shopkeepers and residents and their families. Armed force personnel have constructed temporary shelters for them.
Tshenkari is about four kilometres from Nganglam town towards Pema Gatshel.