Thimphu drivers improve in respecting zebra crossing rule
Changa Dorji, Thimphu

Mar 20, 2017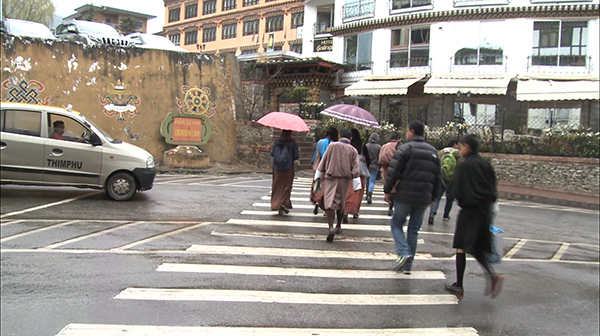 The behaviour of Thimphu drivers at zebra crossings has improved significantly with most of them now slowing down to give way to pedestrians, according to city's traffic police.
This comes almost a year after a series of awareness campaigns on zebra crossing rules and safety by the police. While many drivers now respect pedestrians' right of way at the zebra crossing, Traffic SP, Major Yeshay T Phuntsho, says there are some who still do not let pedestrians cross at the zebra crossing. Police are now getting tough with them. Since last Wednesday, police have been making sure those drivers are slapped with fines uncompromisingly.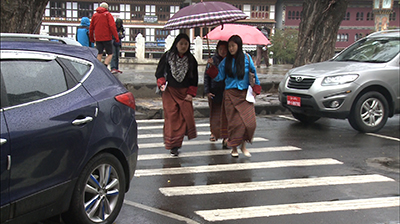 Last, year more than a hundred thousand ngultrum was collected in fines from the drivers for not giving way to pedestrians, while over Nu 21,000 has been collected so far this year.
Apart from disciplining drivers, police are also targeting pedestrians who cross the road from anywhere they like and not from the zebra crossing. Police said discussions will be held with relevant stakeholders to decide whether or not to introduce fines for pedestrians as well.
Traffic cops have been placed at major zebra crossings in the city as police works hard to improve zebra crossing etiquette of both drivers and pedestrians. The rest of the zebra crossings, police say, are monitored through CCTV.
Pedestrians agree that crossing the road is now a lot safer. "Earlier, we had to wait for five minutes or more before we could cross the road. But now the cars stop at the zebra crossing," said Lhamo, a Thimphu resident.
"There is huge difference on the roads. Cars stop and give way to people, which was a rare sight in the past," said Jigme, another resident.
While things have improved a lot from the perspective of locals, navigating Thimphu's busy roads without traffic lights is confusing to outsiders like Kandy Chang. Kandy, an American tourist taking a stroll down the busy Norzin Lam says without lights signaling car and pedestrian movement, it's difficult to figure out when to cross the road.
Traffic division says cops will continue to monitor zebra crossings until sufficient awareness is created. More than 500 cases of zebra crossing related accidents were reported in Thimphu last year. About 90 cases have been reported so far this year. There are more than 70 zebra crossings on the roads in Thimphu city.