Lunaps seek cut in helicopter fare
Komal Kharka, Gasa

Mar 20, 2017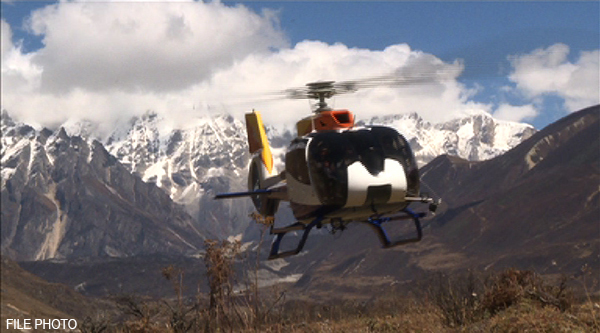 Following concerns over increase in the helicopter fare despite the rise in the demand for trips to Lunana, the recent Gasa Dzongkhag Tshogdu decided to write to the Royal Bhutan Helicopter Services seeking reduction in fare, which is already subsidised. 
In the letter, the Dzongkhag Tshogdu will also seek clarification on the "fluctuating helicopter fare" as Lunana Gup Kaka put it.
Raising the issue at the Dzongkhag Tshogdu, Gup Kaka said the people of Lunana are grateful to the government for providing them with subsidized helicopter service.
"However, the current fare, though significantly subsidizsed compared to those levied on tourists (Nu 350,000) and  local and government chartered flight  (Nu 181,000), is not within the means of all Lunaps," said the Gup.
Currently, according to the Gup, a trip from Paro to Lunana and Punakha to Thangza cost Nu 109,000, while the number of passengers has been reduced to five from the initial six. This means each passenger pays Nu 21,800 to fly from Paro to Lunana or Thimphu to Thangza.
Meanwhile, flying from Thimphu to Lunana and Punakha to Tshozhong costs Nu 80,000, which is Nu 16,000 per passenger.
Laya Gup Tshering agreed the fare is still a bit expensive. He said not everyone in Lunana can afford to fly and that the helicopter service has been mostly used for medical evacuation so far. "But if the fare is reduced, the service will become affordable for many," said Laya Gup Tshering.
According to the Royal Bhutan Helicopter Service, with more than 40 trips made to Lunana so far, the gewog tops in terms of demand made for helicopter services in the country.
The introduction of helicopter service has eased the lives of Lunaps who earlier had to walk for days, which is particularly difficult in winter as the passes along Gasa to Lunana route remains impassable due to snow. "This is when the helicopter service is needed the most, and reducing the fare further will bring more benefits," said Lunana Gup Kaka.