Khamaedthang farmers plant spring paddy after two decades
Kinley Wangchuk, Samdrup Jongkhar

Mar 20, 2017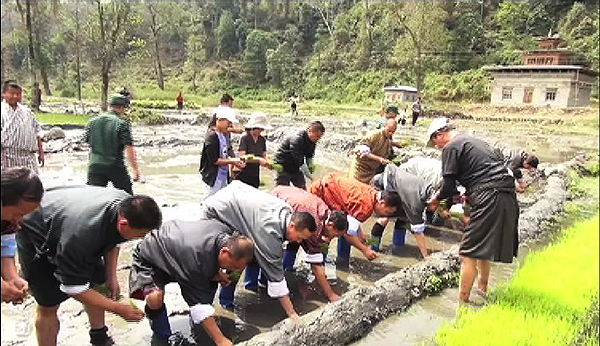 Farmers in Khamaedthang Chiwog under Phuentshogthang Gewog, Samdrup Jongkhar are taking up spring paddy cultivation, after nearly 20 years.
They are rejuvenated to revive such agricultural practice mainly due to agriculture ministry's farm machinery and technical support. The farm machinery support includes power tillers and paddy harvesting tools.
Paddy will be cultivated on over 120 acres of private wetland in the chiwog. The Mangmi of Phuentshogthang Gewog, Yadu Nath Tiwari, said, reviving spring paddy farming in Khamaedthang Chiwog will bring in socio-economic development in the chiwog.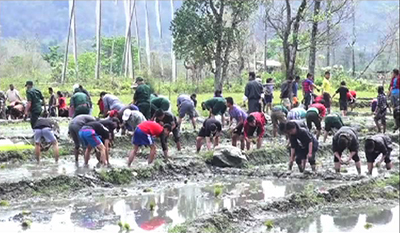 "The agriculture ministry helping the farmers to re-launch spring paddy will set good example to the youth here. It will create employment opportunities for young people in the chiwog," added the Mangmi.
Villagers are also with a renewed hope to see bountiful harvest of paddy. About 144 metric tons of rice, equivalent to some 18 truckloads are expected to be harvested.
"If paddy cultivation proves successful in our chiwog, all other chiwogs in Phuentshogthang Gewog, Samrang Gewog, and Pemathang Gewog might replicate the farming," said a villager, Gomphay Rai.
Earlier, villagers in Khamaedthang Chiwog had given up cultivating spring paddy  as they were wearied by the drudgery associated with it. Not even modern farming facilities such as electric fencing and better irrigation canals encouraged them to re-start the cultivation.
"For spring paddy, the harvest time is in July which is time to plant summer paddy too. It is severely tedious for farmers to plant two seasonal paddy saplings," explained Phuentshogthang Gewog's Mangmi.
Lack of storage facilities and post-harvesting machinery had also discouraged farmers to continue cultivating paddy during spring.
Spring paddy cultivation starts from March and completes by June.