Jurwa- a new TV series and graphic novel launched
Yeshi Gyeltshen, Thimphu

Mar 10, 2017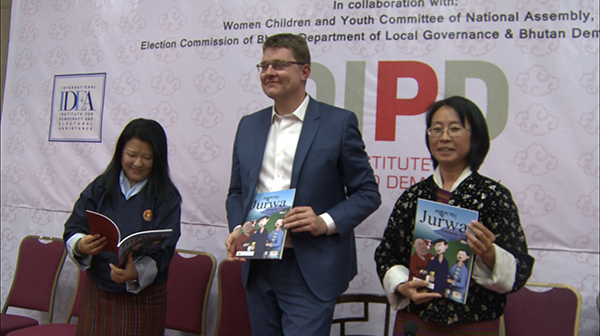 Jurwa, a 2013 educational radio programme will soon hit the television sets as well as book shelves.
The new TV series and graphic novel "Jurwa- changing times" was launched by the Bhutan Centre for Media and Democracy (BCMD) yesterday.
Jurwa is a story of everyday Bhutanese life set in a fictitious village. With comedy, romance and suspense, the story also highlights the journey of democracy, the challenges it brings in and various other issues.
It is expected to help debunk misconceptions as well as prepare the young generation for the upcoming elections.
According to the Executive Professional Director from BCMD, Jurwa is expected to make democracy an everyday topic for discussion.
"To bring in the word democracy and politics into schools and colleges so that young people get familiar with this. Because right now sometimes even in the education system, there is very limited discussion on the evolution of democracy and less on politics and what it means," says Siok Sian Pek Dorji.
Both the TV series and graphic novels are expected to be made available to the public by next month.
"For the graphic novel, we are hoping that because it is in English, we are distributing it in schools, colleges, institutions and public libraries."
"The TV series is in Dzongkha. So it is meant for families," she added.
The stories in Jurwa, although mostly fiction, were made from information gathered from a number of people including politicians, individuals, party members and even the youth.
Jurwa began as a 43 episode radio series broadcast in 2013 to 2014.