Monetary and matrimonial cases top registered cases in courts
Changa Dorji, Thimphu

Mar 7, 2017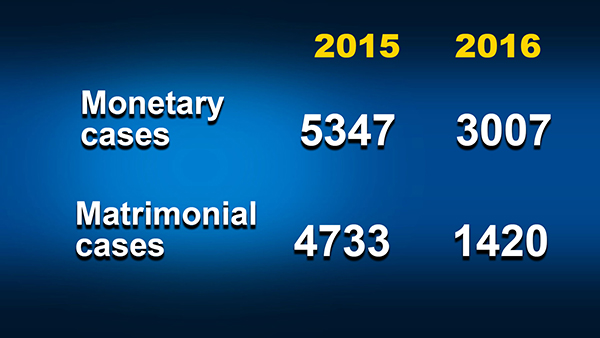 Monetary and matrimonial cases are the top two cases registered in the courts, in the country, last year according to Annual Judiciary Report 2016.
As per the Report released recently, over 4400 monetary and matrimonial cases were registered.
Since 2014, the two have been the most common cases heard by the courts in Bhutan.
Judge Rinzin Penjore from the Supreme Court said monetary cases are relatively higher since it includes not just lending but also those involving financial institutions and others related to monetary payments.
For increasing matrimonial cases, he added, it could be due to flexibility of laws.
"Regarding matrimonial cases, there's nothing mentioned about its punishment in the Penal Code of Bhutan. There is only a system of paying compensation and other benefits. For instance, in India, defaulters will have to undergo seven years imprisonment if found guilty of illicit affairs. We don't have such law in our country."
Drangpon Tashi Chhozom said the freedom in Bhutanese society makes people think that they can do anything.
"People take even family life as granted and that is why there are so many divorce cases."
Judges also say as the population of educated women increases, they are becoming more independent.
Respect, Educate, Nurture and Empower Women or RENEW officials say the number of cases related to matrimony could be more as some cases go unreported.
"People have started taking support from private legal firms, they come to RENEW. Like 80 percent of cases come to RENEW are all matrimonial cases," says the Director of Community Outreach Department of RENEW, Dr. Meenakshi Rai.
However, compared to 2015, both monetary and matrimonial cases registered with courts reduced drastically last year.
This, as per the annual report is because the data on Marriage Certificates and other miscellaneous matters were recorded on a separate system.