Sandalwood smuggling cases in Paro and Haa drops
Sangay Chezom, Paro

Feb 14, 2017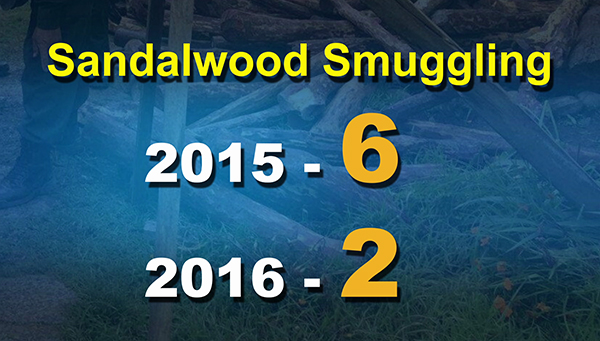 Sandalwood smuggling in Paro and Haa decreased drastically in the last two years compared to 2014.
According to forestry officials in Paro, the number reduced after Supreme Court considered illegal import of sandalwood as a fourth degree felony in 2015.
Sandalwood smuggling was once rampant in Paro and Haa.
19 cases were reported in 2014 in the two dzongkhags. However the number declined to 6 in 2015 and 2 cases in 2016.
Besides strict patrolling carried out by the foresters, drop in number of smuggling cases is attributed to the Supreme Court's order to forward the case to court.
"All the sandalwood business will fall under the fourth degree felony. The offenders will be charged under the court of law. They have to pay the fines as assessed by Forest and Nature Conservation rules and acts. Besides they have the prison term ranging from 3 to 5 years. Because of this, smugglers are scared to stay behind the bar" said the Chief Forestry Officer, Kaka Tshering.
He added both the dealers in India and China are believed to be apprehended by the respective government, leaving a very less market for Bhutanese smugglers.
Despite the imprisonment, smugglers have to pay a compensation of Nu 750 for a kilogram of sandalwood and a fine of Nu 50,000.
The dealers are also fined Nu 3,000 per horse and one hundred thousand ngultrum for a vehicle.