The last potters of Gangzur
Sonam Tshering, Monggar

Feb 9, 2017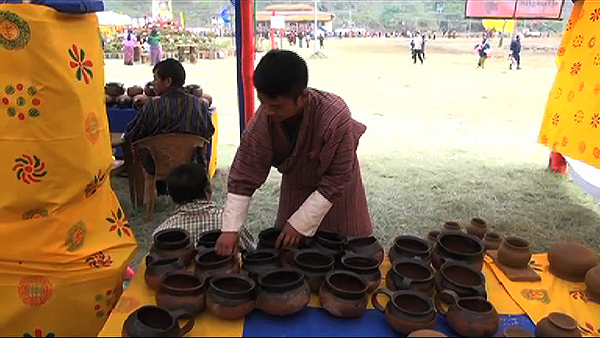 A 21-year-old youth in Gangzur under Lhuentse has taken up pottery as a fulltime business. This has given hope to the people of Gangzur of reviving the traditional art, which is slowly disappearing across the country.
Sonam Tobgay completed his 12th grade from Phuyum Higher Secondary School in Lhuentse in 2015.
After he could not qualify for further studies, he decided to stay back at home and learn pottery.
Sonam is the only youth in his village, who took up pottery business. He has been in this business for almost a year. And he earns a monthly income of about Nu 40,000.
"After class twelve, I did not qualify for any institutes. So after that I got interested in pottery. I learnt pottery when I served as a Pottery Club Coordinator in my school."
Sonam Tobgay recently took part in the Gyalpoizhing Carnival Fair to exhibit traditional pottery. He was there along with two potters, who have been into pottery business for decades. .
"Currently, there are only two women who know about traditional pottery at Gangzur. There are chances of losing the art in future. So I took up pottery," said Sonam.
Including Sonam Tobgay, Gangzur Gewog now has three potters. Besides doing business, they are also teaching pottery skills to interested people in their village to promote pottery.