Locals of Saephu opt for cordyceps over herding yaks
Surjaman Thapa, Trongsa

Feb 4, 2017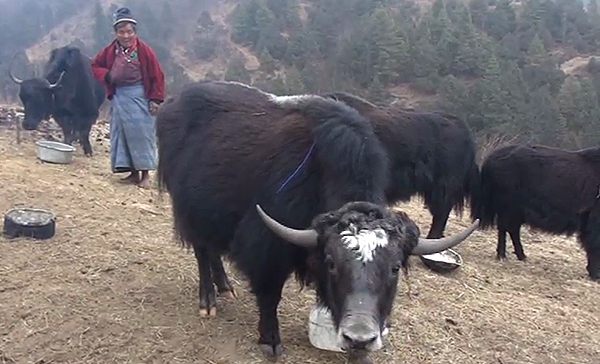 Herding yak for livelihood is losing its grip on the people of Saephu Gewog in Wangdue Phodrang.
Today, the gewog has only a handful of yak herders.
Sixty five-year-old Leki Dorji is the only yak herder left in Serthang village of Saephu.
Leki says most of his fellow villagers have given up herding yaks to collect cordyceps which, they find less laborious and more rewarding.
As for him, he has continued with the trade despite his herd decreasing over the years.
From about a hundred yaks then, today, the number has halved mainly due to lack of pasture land and compensation for wild animal attacks.
People say, today, the only product from a yak fetching a good price is its meat. Also, the income from one season of cordyceps collection, villagers say, is equal to that earned by rearing dozens of yaks.
"It takes us in between 5 to 7 days to reach the cordyceps collection site of our gewog. With yaks, it's difficult to travel the route as it's filled with snow. So fearing they will miss the chance to collect cordyceps on time, people sell their yaks," says a villager of Saephu, Mani Dorji.
The Department of Livestock said more people opting for cordyceps collection has adversely affected the mammal's population in the country.
From around 39,500 yaks in 2013, it has come down to around 38,200 in 2015.
According to the head of Highland Development Programme under Agriculture and Forests Ministry, Tauchu Rabgay, to improve the socio-economic conditions of the highlanders, there should be a collective effort.
"All stakeholders, including health, education, livestock and forest need to sit together and come up with a multi-disciplinary plan."
"Even tourism and handicraft industries should be taken on board to recommend prospective products that the highlanders should come up with," he added.
The Agriculture and Forests ministry will also be launching an integrated Yak conservation and breeding center in Haa.
Meanwhile, back in Saephu, as more and more people take up cordyceps collection, Leki Dorji, the lone yak herder of Serthang, has a message for consideration.
"Right now, they do not take interest in rearing yak and in future, what if there is no more cordyceps to collect? It would be a big problem."