His Majesty celebrates Chunyipai Losar in Samdrup Jongkhar
Jan 28, 2017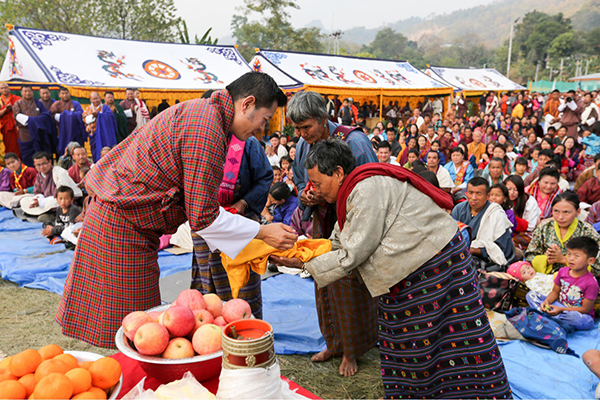 His Majesty The King celebrated Chunyipai Losar with the people of the east in Samdrup Jongkhar, today.
His Majesty granted Losar tokha to the people, who have come from around the region to celebrate the day with His Majesty. The celebrations included archery, various entertainment programmes, and traditional singing and dancing. People received Soelra prizes as part of a lucky draw.
His Majesty The King visited the east, traveling from Gelegphu via Kanamakra and inspecting the border regions and the Manas Wildlife Sanctuary before arriving in Nganglam, Pema Gatshel on January 19. His Majesty visited Borangmo resettlement village, the Dungsam Cement plant, Nganglam RBA, local poultry farms, and individual homes and shops, and met with the people in and around Nganglam.
On January 25, His Majesty travelled to Chokorling, and onwards to Dewathang on foot, visiting villages along the way.
His Majesty Majesty visited the Yongla Gonpa and Pema Gatshel Dzong construction site yesterday.
His Majesty is accompanied by HRH Gyaltshab Jigme Dorji Wangchuck.