Former civil servant turned farmer shares his story of success
Jan 25, 2017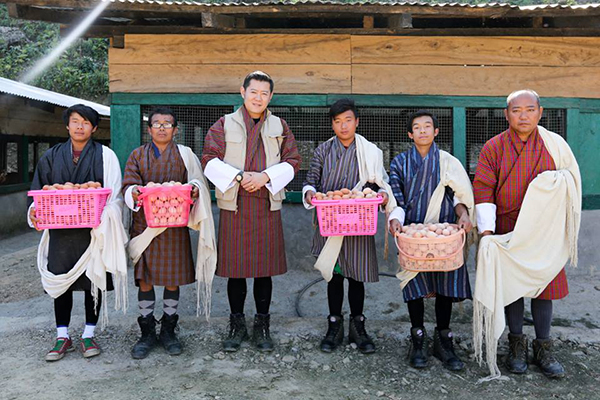 Cheda Jamtsho epitomises the successful commercial farmer that policymakers dream of for Bhutan.
His dream, he says, is to employ his entire village in various agribusinesses, and he has already made a stunning start with his poultry farm, where three of his educated sons and nephews are currently employed.
The Cheda Jamtsho Poultry Farm, which sits on a three acre land in Tshelshingzor under Pema Gatshel, a few kilometres away from his village, is bustling with activity.
Cheda worked as a driver for the Natural Resources-Research and Development Centre (RNR-RDC), Wengkhar for several years until he retired in 2010.
He then bought a DCM which he used to transport construction materials for a few years before learning of the erstwhile Business Opportunity and Centre (BOiC), and submitted a proposal to open a poultry farm.
With his proposal approved, he then applied for land on lease, and received around three acres near his village, paying Nu 1,950 annually, renewable after 10 years.
With his own savings, he built a small house for his family and used the loan money to build coops for the chicken.
He received 500 egg-laying hen from the dzongkhang livestock office, and bought around 1,000 more to set up the farm.
Today, he collects more than six cartons of eggs and sells which he says is sold entirely in Nganglam.
The hen will continue laying eggs for 18 months, after which they will be culled.
To ensure a continuous supply of eggs, he has already ordered 1,000 more hen, and has completed the construction of another coop to house them. He plans to sell the extra eggs outside Nganglam.
"My sons and nephews studied till classes 10 and 12, and today they help with the management, finance and marketing . I am proud to have created employment for them, and they have taken up the work with a great deal of enthusiasm, which has made the farm successful," Cheda says.
The farm makes a profit of Nu 80-90,000, a month, after accounting for all of the utility, labour, and feed costs.
The family works together to feed and care for the poultry and to market the eggs.
Cheda employs workers on contract whenever he needs extra help.
Cheda has recently begun repaying the loan from BOiC, and expects to finish paying it off within the next three years.
In the meantime, he has bigger plans.
He has already started out with a small piggery, which has nine pigs. They will be in demand on daw chunyipai losar, and he has ordered 50 more to replace them and expand that business.
Cheda is also exploring the possibilities of expanding into orchard farming– he has heard that growing persimmon is profitable, and that mushrooms grow well in similar climate.
He has a wealth of knowledge already about building greenhouses, choosing species, and collecting cuttings for the orchards.
"There are a lot of young people in my village who can be employed to run all these businesses," he says. "I know they will be interested because the success of the poultry farm is an example."
His Majesty The King visited Cheda's Poultry farm yesterday morning.
"It was a great privilege to receive His Majesty in my farm. His Majesty had many questions about all aspects of running the farm, and in the end, His Majesty expressed appreciation for my work, and said that farmers like us would always receive support. It has been a truly memorable day for me and my family- we will never forget this honour," Cheda says.