First ever animated TV series to air on BBS
Choni Dema, Thimphu

Jan 19, 2017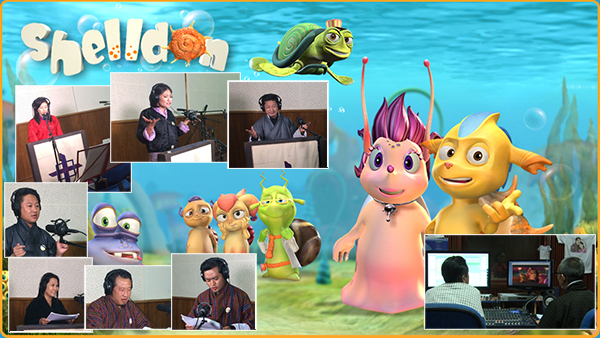 Viewers of Bhutan Broadcasting Service (BBS) will soon get to see the first ever animated TV series called Shelldon. The Dzongkha dubbed version will be launched on February 5, this year. It is a gift from His Royal Highness The Gyalsey to the children of Bhutan, on his first birthday.
The Dzongkha Development Commission is helping with its script translation.
The 78 episode series revolves around a young shell called Shelldon. It is about Shelldon and his friends who face challenges and adversaries, and learn to overcome them in their underwater world. Target audience for the animated series is the children in the age bracket of 4-8.
BBS is dubbing the series in Dzongkha. Local movie actors are providing voice-overs for the characters.
The voice-artists have been recording their voices for almost a month now, working every day. The General Manager of Television channel 2 of BBS, Tashi Dorji said the animation series is basically to be broadcast to encourage children speak fluent Dzongkha.
"BBS also wants to horn our skills in animation process so that we can make quality animation  programs and highlight a rich history and  a culture that will be beneficial not only for the children but for the entire youth of Bhutan as well," affirmed Tashi Dorji.
Shelldon is a personal initiative of the Prime Minister Tshering Tobgay. The series was provided free of cost by the Prime Minister's friend in Thailand who is the owner of Shellhut entertainment that produces animated series.