HAB trains women and youth in handicraft tailoring and weaving
Changa Dorji, Thimphu

Jan 17, 2017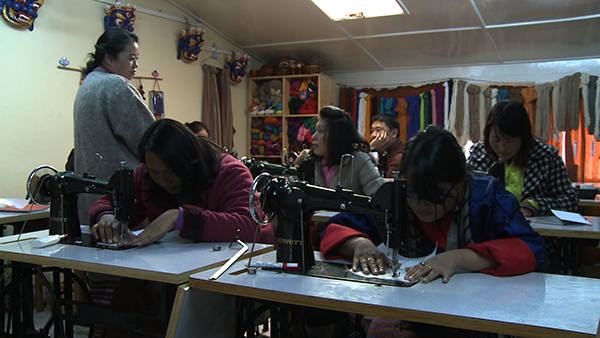 Over 100 women and youth are undergoing five month long training in handloom weaving, carpentry of indoor furniture, and handicrafts tailoring in Thimphu.
The training has been underway since yesterday and it is being organised by the Handicraft Association of Bhutan (HAB), a Civil Society Organisation. The association said the training's main objective is to encourage exporting more handicraft products.
"People don't see opportunity in handicrafts business. Hence after the training, we will provide them with necessary requirement of equipment to start up the works in group and also we will help them to get their products sold abroad by consulting with our agents," said the Executive Director of  HAB, Chorten Dorji. He added handloom weaving and handicraft tailoring have become viable business opportunities due to increased  demand in the market. But currently there are no professional and skilled persons.
Some of the trainees are hoping the five month long training will fulfill their business endeavours.
"I have participated in this training with some hopes and expectations. Firstly to become a designer in future, secondly to become self sufficient and thirdly, I found there is an opportunity to become a good businessman," said a trainee, Kinzang Wangmo.
A trainer, Kencho Wangmo said within five months of training, the focus will be on making souvenirs such as bags, clutches, and wall hangers. Another highlight of the training is that it will have international expertise to enable trainees to be more innovative.