RMA to double rupee ceiling to 10,000 from next week
Passang, Thimphu

Jan 11, 2017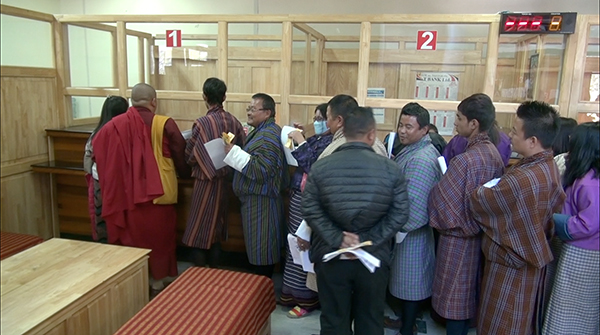 The Royal Monetary Authority (RMA) will increase the rupee exchange ceiling to Rs 10,000 from next week.
The Central Bank is receiving Rs 100 M, every week from the Reserve Bank of India. And this has helped minimised the shortage of rupee notes after India demonetised 500 and 1,000 denominations of notes.
Currently, a person is allowed to exchange only Rs 5,000 per month.
"There is shortage but it has not been as severe as it was in December. As long as people are behaving themselves well and coming with genuine interest to receive INR, we have been entertaining everybody who comes from 9 to 3 pm in a day," said the Governor of RMA, Dasho Penjore.
The Governor also said the rupee exchange ceiling for orange suppliers and other exporters in borders areas will be hiked too.
"So we will again work and discuss with exporters to enhance their need and even the number of trucks to be financed with INR to transport Bhutanese product to India".
Presently, for a truckload of export of any Bhutanese products, only Rs. 5,000 is being provided.