Drunk driving the leading cause of road fatalities
Damcho Zam, Thimphu

Jan 11, 2017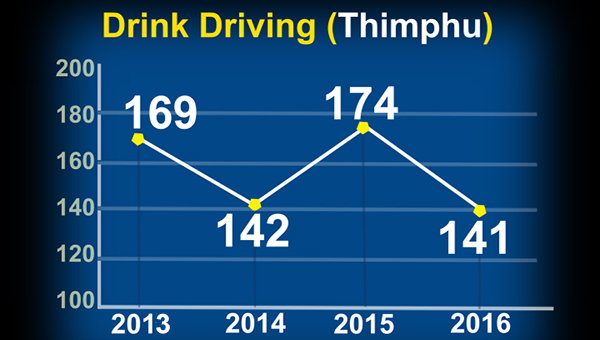 Drunk driving continues to top the list of offences leading to road fatalities in the country. According to the records of Thimphu Police, last year alone, around 140 accidents were occurred due to drunk driving.
This, the Traffic Police said is due to easy availability of alcohol across the country and lesser penalty for driving under the influence of alcohol.  Careless driving is another main cause of road fatalities.
Some of the drivers who had past experience of drunk driving said driving while intoxicated is dangerous.
"From my experience, there is a vast difference between drunk driving and driving when you are sober. No matter how experienced a driver you are, once you are intoxicated with alcohol,  you cannot drive properly," said a bus driver, Pema Dorji.
Traffic Police declared every Friday as Zero tolerance day for traffic violations to prevent vehicle accidents since 2015. Sudden highway checking was also initiated to discourage drunk driving.
The move was effective as the number of drunk driving cases was reduced last year.
Traffic Police also plans to increase the amount of penalty for drunk driving from Nu 1,750 to over Nu 10,000.