Bhutan-India bilateral youth dialogue held for the first time
Kinley Yangden, Thimphu

Dec 28, 2016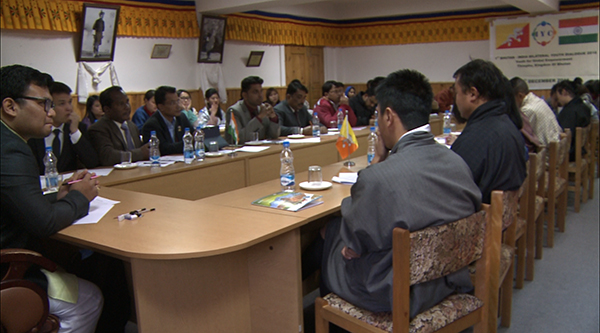 Around 100 youth attended the first ever Bhutan-India bilateral dialogue in Thimphu, yesterday.
The International Youth Committee of India organized the bilateral congregation to empower Bhutanese youth in various youth related fields.
During the meeting, Bhutanese youth and its Indian counterpart exchanged ideas and experiences on many issues which are pertinent to them.
Suggestions to fulfill the needs and aspirations of young people were also discussed and put into a draft action plan
The Chairperson of International Youth Committee India, Kanarjit Singh Kangujam said the action plan document will be put up to the Prime Minister and other relevant agencies in Bhutan.
"The plan known as Thimphu Plan of Action or Thimphu Youth Declaration, 2016 will be not logical to be implemented without seeking support from the Honourable Prime Minister and other stakeholders," said Kanarjit.
The action plan aims to promote educational exchange programmes between the two countries.
"We can have cultural exchange programmes and also in areas of sporting activities, we want to promote boxing and volley ball," added Kanarjit.
The Ambassador of International Youth Committee to Bhutan, Jigme also received the first Bhutan-India Youth Dialogue award at the event.
He shared that the dialogue was an educational discussion focused on sustainable development, democracy, and youth unemployment.
The International Youth Committee's Bhutan branch was also launched yesterday.
It has 42 members.