Bhutan to receive funds from JICA for reconstruction of bridges
Sonam Choden, Thimphu

Dec 27, 2016
Bhutan will receive a fund of over US$ 18 M under the Japanese Grant Aid to reconstruct bridges along the national highway.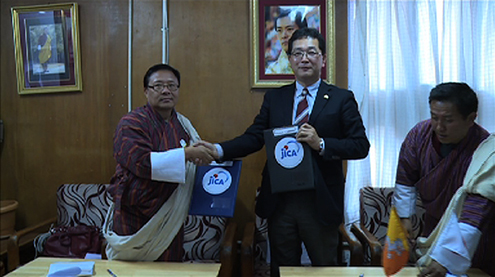 The grant agreement was signed between the Japanese International Cooperation Agency (JICA) and Gross National Happiness Commission(GNHC) in Thimphu, yesterday.
Under the grant, four new bridges will be rebuilt and the Japanese Bridge experts have designed them.
Works will start by the end of 2017, in Trongsa and Sarpang.
"During rainy season, bridges are damaged by landslides and floods. But the Japanese designed bridges will have resilient features to resist these hazards," said the Chief Representative of JICA, Koji Yamada.
JICA officials said the new bridges will have a carrying capacity of about 100 tons or 1,000 truckloads.
So far, JICA has funded reconstruction of 22 bridges in the country.
The Japanese government has committed total assistance of 84 M USD for the current plan period.