Her Majesty Gyalyum Dorji Wangmo Wangchuck receives an international award
Oct 24, 2016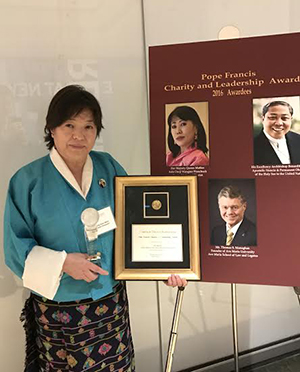 Caritas in Veritate International honoured Her Majesty Gyalyum Dorji Wangmo Wangchuck, the Pope Francis Charity and leadership Award at a ceremony in New York City.
Bhutan's Permanent Representative to the United Nations received the award on Her Majesty's behalf.
The award is in recognition of the work done by the Tarayana Foundation under Her Majesty's leadership in uplifting the lives of the remote communities in Bhutan.
Caritas in Veritate International is an Alliance of organizations dedicated to equipping and mobilising youth in bringing Charity and Truth to the poorest of the poor.